Tomorrow is National Bike to Work Day! Now, we all have excuses as to why we drive to work instead of riding our bikes: the commute is too long, inclement weather, not enough time, you have to take your kids to school, the list goes on and on.

For me, the reason is because there is no easy way to get to work on a bike, unless I take the shoulder on the highway. But I am not interested in playing Frogger with others on the highway making their morning commute.

But if you live close to work and if the weather is beautiful, why not bike to work? And if you just can't make it happen, then just bike after work or go get lost on a trail this weekend! I'm sure that would suffice!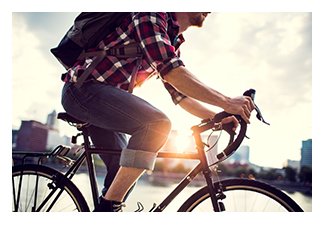 --------------------------

Krista is the 'ville's Web Marketing Coordinator. She came to us in 2012 as part of our stellar Sales team. Using her experience with Baudville customers, she helps create an online experience we're sure you will enjoy! Being the chatterbox she is, she truly misses talking with all of you so don't be shy and drop her a line!