Over the last few years as my kids have gotten older, I'm now able to sit and read a book with little disruption. I've always had a soft spot for romance books that don't have any real meat to them, allowing myself to drift away for a few hours in an easy-to-read story. After a long day at the office or a full day of weekend chores, you just don't feel like reading something heavy or thought-provoking.
However, in the past year I made a decision to read more books in the self-help, leadership, and career-focused genres. Now I find that's all I've been reading!
A couple months ago, I was scrolling through my Instagram feed. One of the bloggers I follow talked about a book she highly recommended to help boost motivation and get a little inspiration to create a better life. It was called "You Are a Badass: How to Stop Doubting Your Greatness and Start Living an Awesome Life" by Jen Sincero. I quickly looked up the book, read a few reviews, purchased it, and started reading it that instant (gotta love digital books!).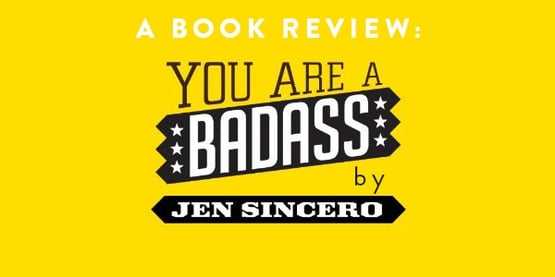 I read it in a few hours, but it's one of those books you need to read again. And again. And maybe again. There tons of great ideas you need to let sink in before you make the decision to go for it. You may also want to have a hard copy to keep at your office or home, as well as the digital version, for quick pick-me-ups and reminders.
Here are some ideas that impacted me the most:
Get More From Life
The third page in sets the stage with a simple statement:

Easy, right?!
We've all heard the "anything's possible" phrase [with a potential eye roll], but this book will get you believing in that phrase and in yourself. Trust me.
While I read the book for my own reasons, it's a great read for anybody who wants more out of life, work, or with their family.
There are some easy changes you can start DOING NOW to enrich your life—you just need to make the decision to do it.
Be Present
We miss out on the opportunities of today when we get stuck in the past or in the future.
The more time we spend in the moment, the richer our lives will be. Put the phone away when your child is talking to you, stop working when a coworker comes by your desk and look them in the eye, and be present when you're in a meeting.
Opportunities exist all around us, and we just have to live in the present to realize it. We constantly think about the past and what we did wrong or how we'd do things differently if we could do it again. And sometimes we feel anxious about what the future holds. Talk about #FOMO.
Thinking Isn't Doing
Another theme Sincero brings up is the infamous "thinking, but not doing" mentality. People do this very often, therefore it's common in the workplace—there's a lot of talk, but not always a lot of action. In meetings, we talk about everything, but then no one champions the project or gets momentum going to really DO anything after the meeting.
We all tend to worry about being a disappointment or failure, but honestly, we fail if we don't do anything either.
Find the Right People
She also touched on the importance of surrounding yourself with the right people. Are the people in your life enthusiastic, excited, and inspiring? Are they following their dreams and doing things that lead them to great things?
If not, find new peeps! I know it's not that easy, but make sure to be with the friends, family, and coworkers who are DOING things, and hang with them. You will start DOING soon enough!
Just Read It Already!
Self-help books are only as good as what you do with them. All in all, I'm happy I found and read this book. I've made the decision to start doing, and I'll definitely keep this book on hand to keep the motivation going.
I would recommend it to anyone, even those who are already do-ers. We all need a little push to remember to love ourselves and make our lives better than they are today.
It's time to challenge yourself and do things that take you out of your comfort zone to see what happens. As Jen Sincero says, "What do you have to lose?"