Calling all PTA members, school administrators, and community leaders! Teacher Appreciation Week is coming up the first week of May, and it's important for YOU to share the love this year.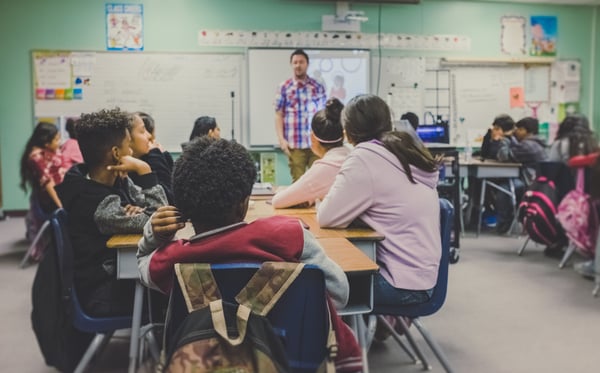 We know that students and parents do a great job of appreciating teachers, bringing in treats, cards, and small gifts at the beginning and end of the year (and sometimes all throughout the school year), but sometimes the appreciation teachers crave is from you.
While student and parent appreciation goes a long way (don't get us wrong, it really does matter!), it doesn't provide the affirmation they crave from peers and bosses. According to an article by The Washington Post, "What [teachers] want, they say, is for their profession to be respected in a way that accepts educators as experts in their field. They want adequate funding for schools, decent pay, valid assessment, job protections and a true voice in policy making."
At the core of that statement is this truth: the need for respect and trust from the higher-ups. We believe that's what Teacher Appreciation Week is all about: showing your appreciation and instilling within them the trust and respect you have for them.
And, as a result, teachers will feel two things:
1. They will feel great.
Truth be told, most of the benefits of a gesture of appreciation come from how you made them feel. Having an attitude of gratitude and expressing thanks to your teachers on a regular basis makes them feel great. Appreciated. Accepted. Part of the team. Connected. Respected. Etc.
2. They will work harder.
Because they know their work has value and that you trust them, they'll be driven to work harder. They'll have that extra spring in their step, intentionality in their actions, focus behind their tasks, and purpose behind their work.
That's the power of saying thank you! Though two words seem so small, they are powerful. That's why we encourage you to thank your teachers during Teacher Appreciation Week.
How Can You Unleash the Power?
Later in The Washington Post article, it states: "By all means, during Teacher Appreciation Week express words of gratitude and give awards and flatter teachers who excel at their jobs. But let's also vow to trust teachers as experts, and to do it through our actions in addition to our words. That shows genuine appreciation—the kind that lasts and makes a difference."
Here at Baudville, we're all about combining both! Over the years, we've come up with many great, timeless, and time-tested ideas for celebrating, thanking, recognizing, and appreciating the teachers who work so hard for you day in and day out. So, we've combed through our blog posts and rounded up a few favorites here:
1. Treat Them!
From our Show Some Love for Your Teachers with These Easy Appreciation Tips post comes wisdom on how to get a party started: Food! So, bring your teachers a sweet treat. Make a batch of your favorite homemade cookies, or check out one of our sweet appreciation gifts and give them to your team. Add a gift tag or handwritten note to make the gift more personal. Or, if you're having a potluck, check out some of our favorite recipes here.
2. Encourage Them!
Sometimes a simple thank you card with a personalized, handwritten note can go a long way. Just be sure to follow our tips above about making it personal and genuine by including reasons why you appreciate them and which qualities you value. (Don't know where to start? Check out our list of 33 appreciation messages for some note-writing inspiration.)
3. Award Them!
In our Teacher Appreciation Ideas eBook, we gave the idea of putting up a Wall of Fame (preferably on one of your bulletin boards in a high-traffic hallway). You can easily use certificate paper to print an award title and put it up alongside their school picture. Here's a list of 25 award titles perfect for recognizing your teachers:
Above and Beyond Award
Achievement Award
Artfully Creative Award
Awesome Attitude Award
Caring Classroom Award
Certificate of Achievement Award
Citizenship Award
Commitment to Service Award
Difference-Maker Award
Helping Hand Award
High Five Award
Honor Roll Award
Enthusiastic Teacher Award
Excellent Educator Award
The Extra Mile Award
Leadership Award
Mountain Mover Award
Peak Performance Award
Perfect Attendance Award
Principal's Award
Star Teacher Award
Teacher of the Year Award
Teacher of Integrity Award
Teamwork Award
Technology Whiz Award
4. Reward Them!
Teacher gifts that speak specifically to the teaching profession are extremely popular for Teacher Appreciation Week. Did you know we have an entire line of products dedicated to teachers? They feature rockin' sentiments, like: "Making A Difference: It's What Teachers Do" and "I'm a Teacher. What's Your Superpower?" with awesome school-specific designs. Check them out here!
5. Go Above and Beyond for Them!
Think you've done enough? Think again! Take your ideas one step further with school or break room decorations (we're sure our Teacher Appreciation Print-n-Posts will complement any décor), student participation and thank you notes, a team outing, catered lunch, or another fantastic idea.
How are you planning to celebrate Teacher Appreciation Week? Let us know in the comments below!