When you step into your hotel room and examine the fresh, clean sheets, towels, and spotless room, do you ever think about the person or people who were behind it all? Housekeepers oftentimes work 12- hour days, get up early, and/or stay at work late to make sure that you're living in a clean and healthy environment. Housekeepers aren't only employed by hotels, they work at hospitals, universities, businesses and, if you're lucky, you have one for your own home. These hard-working individuals are definitely in need of some recognition! Luckily, they have a whole week dedicated to them! International Housekeeping Week is celebrated on the week of September 14-20.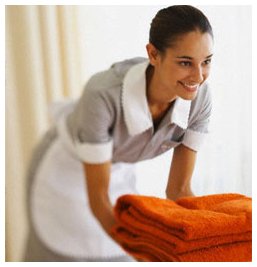 Chances are that you know someone who is in the Housekeeping Industry, whether it is your personal housekeeper, your office cleaning staff, or someone who works at a hotel. Give those people you know a special Shout Out, they deserve it! If you happen to be staying in a hotel the week of September 14th, be sure to stop and say thank you to the housekeeping staff when you see them in passing, or write a note thanking them and leave it in the room for your housekeeper to find!
If you manage a housekeeping staff, we have tons of great gift ideas to make next week memorable! Hilton Worldwide has a ton of great ideas to make next week one that your staff won't forget – check them out here!
We don't take the time to think about the people who are behind our clean office spaces, homes, schools, or hotel and hospital rooms – we just expect that these environments will be clean and complain if they aren't. Next week, take time out to think about any housekeepers you may know or come across: thank them and appreciate them!
--------------------------
Krista is the 'ville's Web Marketing Coordinator. She came to us in 2012 as part of our stellar Sales team. Using her experience with Baudville customers, she helps create an online experience we're sure you will enjoy! Being the chatterbox she is, she truly misses talking with all of you so don't be shy and drop her a line!