Administrative Professionals' Day is tomorrow!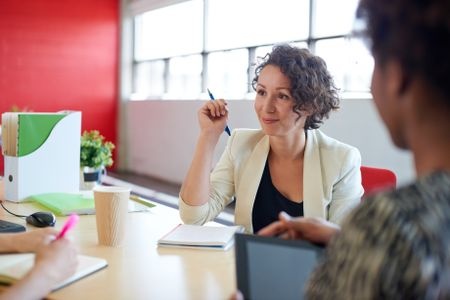 Be sure to take some time to thank the admins of your organization for keeping you organized, helping you manage your time, managing the details, and everything else they do.
We covered a few gift and recognition ideas in our post "5 Reasons Why We Love Our Administrative Professionals," so check it out if you need ideas.
But why?
Beyond that it's a nice gesture—and that they really, truly do a lot for you—why does it matter that we take the time to say "thanks"? And why does it matter that we do it often, rather than on just this one day of the year?
1. It lets them know you don't take them for granted.
In the words of one executive assistant, "You hired us at your startups and proceeded to not only give us an administrative role, you then added receptionist, office manager, Board liaison, human resources lead, facilities manager, vendor procurement specialist, interior designer, event planner, social media coordinator, and travel agent to the role. That's zero increase in pay and an exponential increase in expectation and accountability."
Whether they report to you or not, an admin's job affects the whole office. (I mean, that list covered quite a few vastly different roles!) His or her magic touch is all over, whether you know it or not. So, when you see them doing one of these things, or find out they were responsible for that hotel upgrade, awesome travel arrangement, etc., be sure to say a big thank you!
2. It lets them know you care.
It's one thing to think something and it's another thing to voice it. Seems self-explanatory, right? Then why don't we say the things we think? It's easy to assume that someone else has said thanks to your admin, but chances are everyone assumes that . . . which means no one is doing it. (Still with me?) So, make a point to be generous with your appreciation rather than holding back.
It shows that you care enough to MAKE SURE they receive the recognition they're due. Rather than letting it fall by the wayside or letting someone else do it. Take ownership, friends, and thank your admin!
3. It keeps them around longer.
To keep it short and sweet: Greater employee appreciation results in better employee retention. And that includes—especially—administrative assistants. As I mentioned above, they're also known as the grunt workers, coffee runners, travel agents, bookkeepers, note-takers, office mitigators, and more. These office superheroes do many jobs that are not so glamorous and often overlooked.
But, with frequent recognition, they know their job has value and serves the company's purpose, which in turn will make them feel fulfilled and accomplished in their role. And you know what that means: job satisfaction and longer tenure.
4. It gives them confidence in their abilities.
This one is also self-explanatory, but let's take it one step further. Often, admins have skills that go above and beyond their current role. Know what this means? They're great candidates for office positions that open up. As the admin of your organization, they have their foot in the door, and they already know the ins and outs of your company culture. Imagine the possibilities of developing a confident professional by both using their full range of skills (to benefit them as well as you) and recognizing them for their success.
Or, if your admin isn't looking for a different career path, recognizing them for their awesomeness develops them into a better admin! And soon, they'll basically become an extension of yourself, they'll be THAT good.
One More Piece of Advice
Words of affirmation go a long way in making someone feel appreciated . . . when it's done the right way. Whether you write a note or tell them in person, be sure to acknowledge their efforts. The most important thing to remember here is to be specific! "Job well done" doesn't quite have the same ring as, "You rocked the prep for our Employee Appreciation Day event last week! I know you spent a lot of time planning and shopping for it, and I just want to say that the décor was on point and the games were a great way to bond with our team."
Then, add a little more: a heartfelt and personal thank you. Let them know what they mean to you and your organization . . . basically, that you couldn't do what you do without them.
How are you planning to celebrate your admin tomorrow—and every day? Let us know in the comments below!