This year, during our Spring Fitness Challenge, we tried something new: a community salad bar. Baudville supplied the lettuce and dressings, and two of the challenge teams pitched in to bring all the toppings and extras. It was such a hit that we decided to keep it going after the challenge was over. Our most recent one was actually yesterday!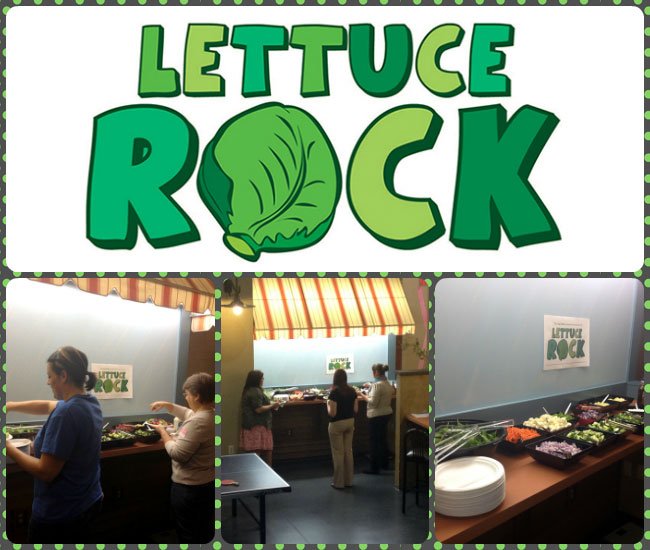 What we love about the salad bar is that it gets everyone together, it's healthy, and it's always different depending on what the team in charge brings. Sound like something you want to try? Here are some helpful tips...

Do Your Part.
Encouraging healthy eating is an important element of an overall
wellness initiative
, so using a little bit of company funds for part of it should end up paying off in the long run. By providing the basics, you show your commitment to employee wellness and you create an incentive for people to participate.

Send an Invite and Build Teams.
Send an all-staff email describing what you're doing, when, and why. We schedule ours around the same time every month, and we try to choose a day that will work for most people (not Friday or Monday, for example). Once you get a list of all the participants, divide them up into equal teams. Ours have about 10 people each and they rotate month by month.

Figure Out How Much You Need.
It gets easier once you have one under your belt, but for the first one you might need a little guidance to get your quantities right. We found
this guide helpful
. It's always better to go over rather than under. You can always have leftovers the next day! Just make sure you have everyone log how much they brought. Then, when it's over, take inventory of what's left and you'll have a pretty good gauge for next time.

Keep it Healthy.
Don't sabotage your salad! Heavy cheeses, fried nuggets, and fatty dressings will counter all that goodness underneath. Opt for all-natural dressings and vinaigrettes, low-fat cheeses, and raw nuts instead. And, of course a healthy variety of greens and veggies so everyone can build their ideal salad!

Plan Ahead.
You'll need a bunch of different-sized bowls, tablecloth(s), tongs, utensils, and extra bags for packing up later. Oh, and a table, of course. Try to set it up in an area where your participants can access it easily and contain it to those who are participating.

That should get you started. Now...get out there and raise the (salad) bar!

--------------------------

Allison is a self-proclaimed Copywriting Diva and has the certificate to prove it! She's been writing for Baudville for four years and has worked in a variety of business settings for 20 years. Before becoming a professional writer 12 years ago, Allison worked as a department manager where she used Baudville products to motivate her team. She's what we call a true believer!