Our friend Ben Eubanks over at UpstartHR.com recently asked for contributions to an ebook about employee engagement. Several knowledgeable HR professionals answered his call, and the result is a comprehensive ebook with great tips, stories, and advice about employee engagement. Yours truly even made the book! Go over to UpstartHR.com to download the ebook for free.
Here's what Ben has to say about the ebook:

"Passion. A sense of purpose. Engagement. Studies show that employees that are "engaged" in their work perform significantly better than those who are not. The problem is finding real, tangible ways to make that happen. Good thing there's (now) an eBook for that.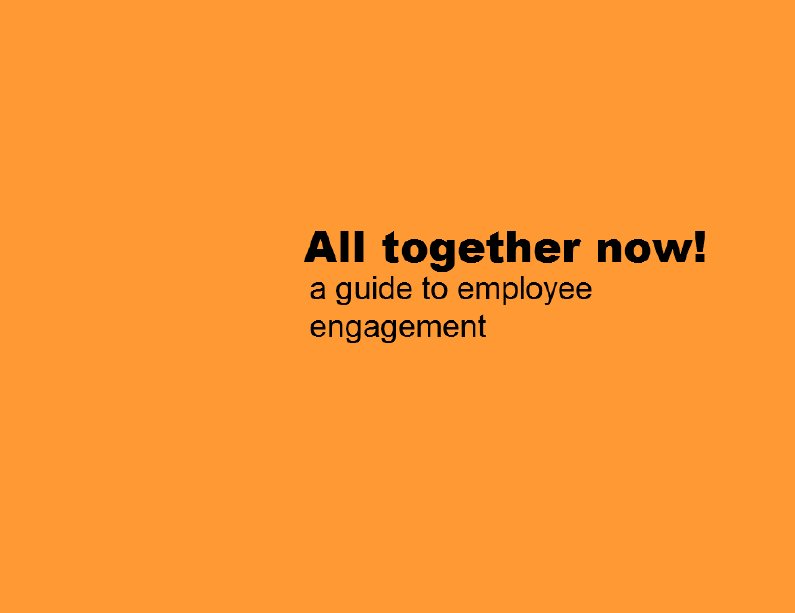 Recently I reached out to a few people to see if they wanted to contribute to an eBook to help HR pros, managers, and business leaders learn more about this topic. The response was a good one, and today I'm happy to share the free eBook with you. It's titled "All together now! A guide to employee engagement."
There are personal stories about engagement and what it means, tips for companies on communication and culture, and some really great, specific how-to content.
Special thanks to Shauna Moerke for helping me to promote the guide through the HR Carnival channel. I also want to thank the contributors for offering up some great, useful content: Nathaniel Rottenberg, Chris Ferdinandi, Paul Smith, Laura Schroeder, Dwane Lay, Dave Ryan, Krista Francis, Jennifer V. Miller, Lisa Rosendahl, Keith McIlvaine, Karen Seketa, Tamkara Adun, Cori Curtis, Lance Haun, Robin Schooling, and Tanmay Vora. You can find links to each of these contributors' websites within the guide."
-------------------------------
Cori is Baudville's in-house Recognitionista (she's officially a Certified Recognition Professional, too) and a member of the Millennial generation. Get her employee recognition tips and special discounts by liking Baudville on Facebook.