We don't really need a particular reason to recognize our employees here at Baudville, but having an entire day dedicated to employee recognition is right up our alley!
I have been a part of a few Employee Appreciation Day celebrations and I must say, Baudville really outdid themselves with this one! From start to finish, the day was full of awesome surprises and events!
When I arrived at my desk with heavy eyes, still trying to wake myself of up to get into work mode, I was excited to find a pick-me-up at my desk! Baudville gave each of us a Coffee Lover's Gift Set: just what the doctor ordered! We also had a pack of Cool Mints (to kick the coffee breath) and a card with a handwritten note from our managers, which was my favorite part.
Soon after, we had an email from a member of our executive team with another fun surprise! Every hour, on the hour, there would be a drawing to give away a prize. The prizes consisted of Starbucks, restaurant, and movie theater gift cards, PTO, lunch on Baudville, and our own logo wear.
Then it was time to start the Amazing Race. Being an extremely competitive person, I was really excited for this part. We were split into teams and given a respective team color, name, and time slot for us to complete five different games. The games were: Flipping Ama-Zing, Way to Use Your Zinger, Team Toss-Zing, Search-Zing for…, and Brain Tea-Zing. Rather than trying to explain them all, I will document with pictures. Some of the games just can't be explained with words!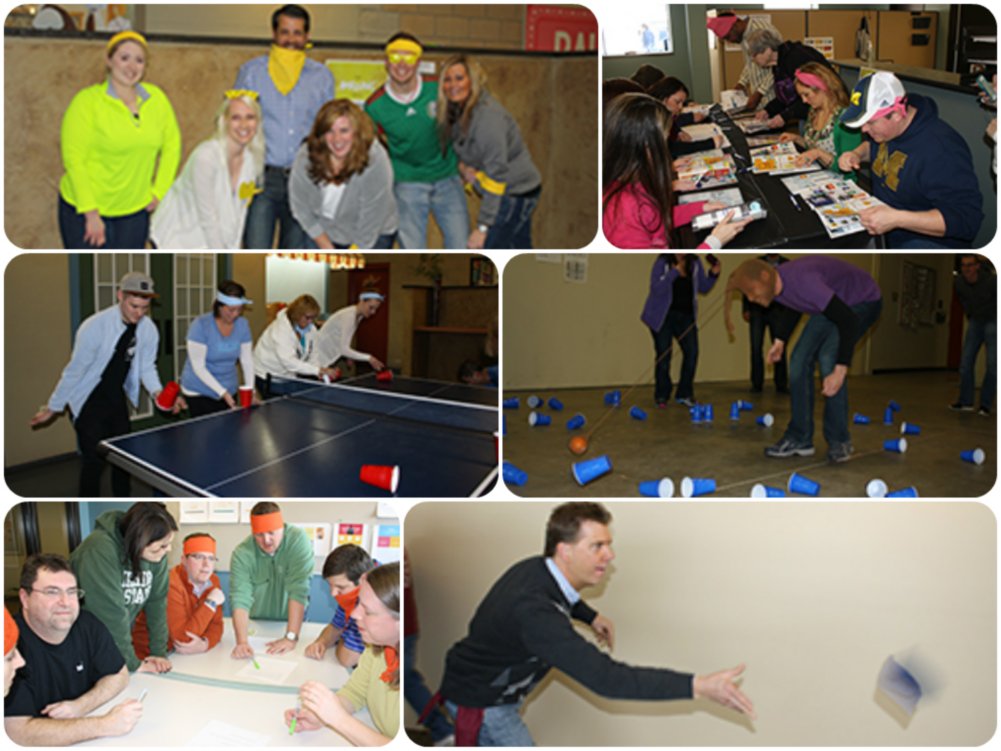 After racing around, we worked up quite an appetite. Lucky for us, Baudville had Moe's Southwest Grill catered in for us! It was delicious, and I think I am speaking for many of us when I say that it put us in a food coma. Good thing for that second pack of Via® in my Coffee Lover's Gift set!
The winners of the Amazing Race were announced before days end. My team was not one of the winners, but the victors each won a casual day and a gift certificate—lucky ducks!
What an ama-zing day! Thank you to Baudville for making the day special and showing us that we are all truly appreciated!

--------------------------

Krista is the 'ville's Web Marketing Coordinator. She came to us in 2012 as part of our stellar Sales team. Using her experience with Baudville customers, she helps create an online experience we're sure you will enjoy! Being the chatterbox she is, she truly misses talking with all of you so don't be shy and drop her a line!