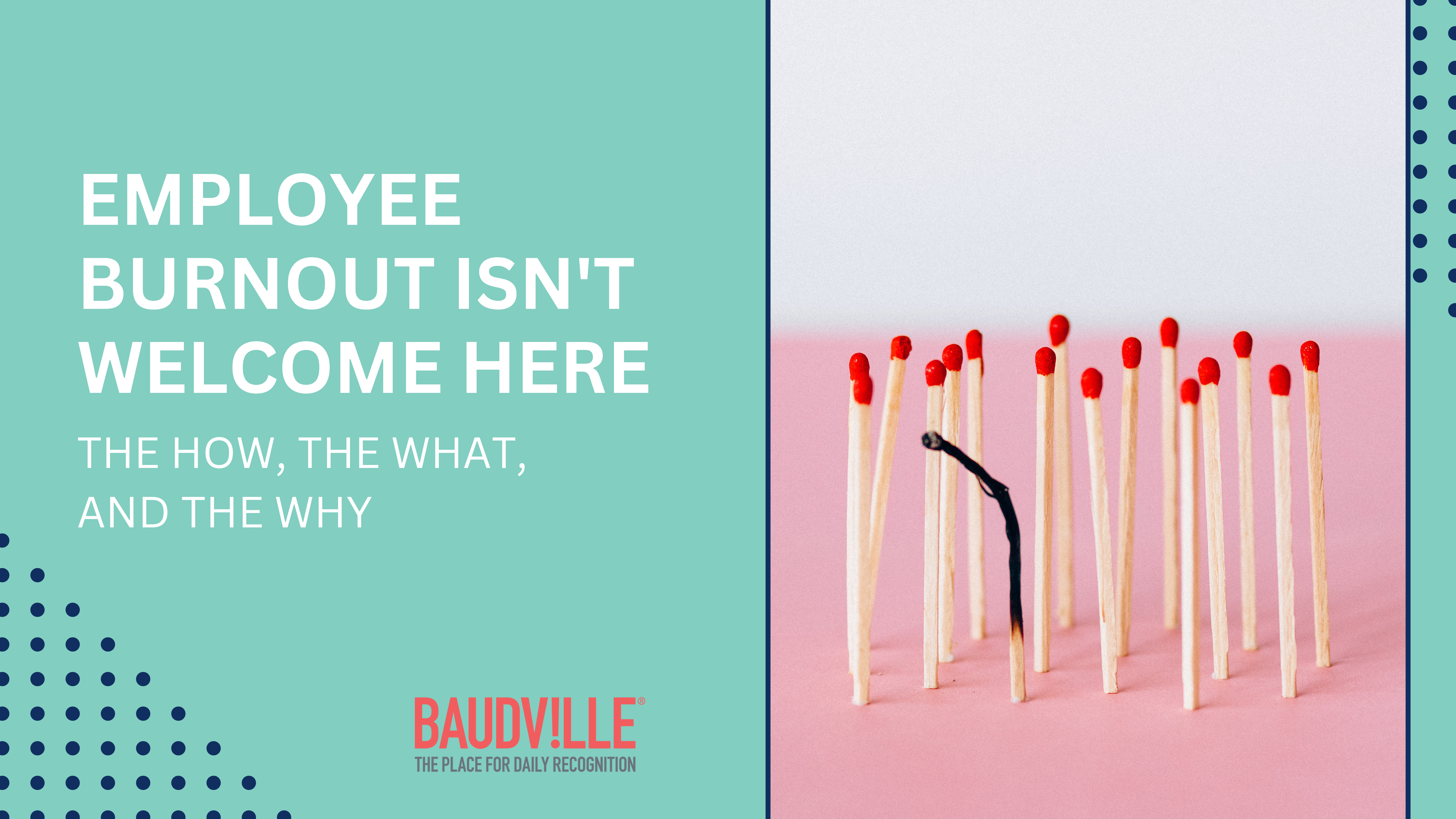 According to a recent study by Zippia, a whopping 89% of workers have experienced burnout within the past year. That is INSANE, but not surprising. While we've all become accustomed to the hustle and bustle of American work culture, feeling stressed and overwhelmed is honestly just a norm. The problem? It shouldn't be.
All that stress, all that overwhelm, and all those huge bites on an employee's plate can easily lead to burnout, which results in a whole lot of mental, emotional, and physical health problems. Add that up and mix in engagement rates, it also results in a whole bunch of company-wide issues. So what is burnout, what does it do, and how can it be prevented? Let's talk about it.
What is burnout?
According to the World Health Organization, burnout "is a syndrome conceptualized as resulting from chronic workplace stress that has not been successfully managed." Simply put, it's the result of an abundance of stress that comes from daily workload, work culture, or really anything in the workplace that makes us tick. Here's a list of possible causes:
Experiencing challenging or unrealistic workloads
Receiving little

recognition or appreciation

for your work
Working under unrealistic or unfair expectations
Working in a toxic environment or culture
Having a lack of community at work
Having unaligned values or ethics
By themselves these things can cause turbulence, but mixed together they can cause one great big burnout monster that causes mental, emotional, and physical damage.
RELATED STORY: A New Year and A New Focus on Health and Wellness
What are the effects of burnout?
When a person experiences burnout, it can cause a wide range of symptoms. These include:
Continuous exhaustion
You don't feel like work is worth it
You don't feel inspired or motivated to reach your goals
Work is no longer exciting or challenging
You feel underappreciated or undervalues for your work
You feel distant or disassociated from your job
In other words, burnout is BAD-BAD. It has a negative impact on mental, emotional, and physical health and wellbeing. And while all that adds up to something very negative for individuals and humanity, it also causes a lot of problems for businesses as a whole.
Why? Because businesses are nothing without their people. And when their people are experiencing burnout, the businesses are experiencing less engagement, less motivation, and less happiness overall. Basically, burnout is bad business.
RELATED STORY: 3 Mistakes New Managers Make About Employee Appreciation
What is the solution to burnout?
Now, that's the age-old question. How the heck can we prevent, reduce, and ultimately stop burnout in our workplaces? The truth is, there isn't one right way. All people experience burnout differently, which means the solution also needs to be different for each individual. The good news? There are lots of little things you can do to make a big difference.
Focus on the workload: As we said above, an unrealistic workload is a huge factor that can result in burnout. So what can you do? You can communicate. If you are a manager, have a weekly one-on-one with your employees to learn about what is on their plate. Is it too much? Can they realistically finish all their tasks? Do they have time to do all their tasks well? Do they feel stressed about how much they have to do?
If an employee voices concern about their workload, it's your responsibility to work with them to understand priorities and remove things from their plate if necessary. At the end of the day, quality is usually better than quantity anyways, right?
Emphasize recognition and appreciation: When you don't feel like your work is recognized, it's hard to feel inspired or motivated. In fact, according to Zippia, "80% of employees would work harder if they felt better appreciated at work."
The good news is there are literally hundreds of ways you can show appreciation. Whether you send a quick email, write a little note, go out for a happy hour, or give a small gift, the possibilities are endless. The moral of the story: Showing appreciation to your employees results in increased engagement and motivation while reducing turnover and feelings of burnout.
Encourage work-life balance and overall wellness: Are your employees bringing their laptops home and working after hours? Are they thinking about work while laying in bed or checking their emails before going to sleep? A lot of them probably are, and this is where some serious problems arise.
It's easy to get stuck in the work-work-work culture of corporate America. But here's the thing: Our best work happens when we are feeling refreshed and rejuvenated. As put by GALLUP, "it's all about work-life integration – bringing our best self to work (because of home) and our best self to home (because of work)." If you notice your employees are feeling burned out, ask them about their work-life balance and learn how you can help them maximize their time both in and out of the office.
Implement Wellness Programs: How can you holistically approach burnout prevention? By creating and implementing programs specifically targeted at reducing stress and improving wellbeing. Here at Baudville, our Wellness Squad helps us understand our mental and physical health. From daily stretches to meditation and art breaks, the team provides an open forum for employees to learn about their health and talk about their daily stressors. Programs like this use small moments as building blocks for a larger outcome: stress and burnout reduction. Here's some things you can do:
Host a five-minute daily stretch that is optional but open to all employees
Have a mediation instructor walk employees through a ten-minute session every month or two
Host competitions focused on getting people active, like a basketball or ping pong tournament
Empower employees to think creatively by providing an arts and crafts station in the breakroom
Put together a team to run or walk a local 5K
RELATED STORY: Quick Stats on Why Your Company Needs a Wellness Program
In Conclusion
At the end of the day, everyone experiences workplace stressors – it's just a part of life. But when things get too overwhelming or too stressful, it's important to listen to those feelings and take them seriously. Burnout not only has negative impacts individually, but also on a company holistically. So, remember – happy employees are essential to a happy (and motivated) workplace!
Interested in chatting with your rep? Find your account manager here - and they'll touch base with you to find a good time to discuss your vision!
We've had the privilege of working with some amazing organizations to develop a branded, special experience for their team.
We appreciate their trust in finding the perfect fit, and we're so excited to highlight how they turned out!
Whether you're just dipping your toe into the custom experience, or you're an old hand at it, we know that together we can pair up to make an amazing impact for you and your organization!
Want more content like this? Subscribe to our emails!