Most of the time, I cruise along, churning out competent work that everyone is happy with. Once in a while, I knock something out of the park and, on occasion, I flat out fail. This probably describes many people's day-to-day work life, or at least I'd like to think so. (That you're all human, I mean).

A couple of months ago, I had one of those crash and burn moments and, I have to tell you, it really stunk. It hurt my confidence so badly that I wasn't sure I was going to bounce back. But eventually I did, and in doing so, redeemed my reputation with my colleagues. I also got a high five from someone whose opinion in this company really matters—our CEO.

It was around this same time that I was working on a really tough project that required me to think analytically, rather than the way I normally think, which is random, scatterbrained, and…ooh, look, it's snowing outside!

Everyone knew this was so not the job for me; but, for a number of different reasons, I was doing it. At a particularly frustrating point in this task, our VP of Product & Merchandising stopped by and rewarded me with something she knows I value greatly: a casual day.

After these two experiences, I was really struck by how easy (and cheap) it can be to make a person feel good. I felt encouraged. And motivated. And really happy that I was noticed and valued for my contributions.

With so many companies still struggling through the economic downturn, it's reassuring to know that there are affordable (even free) ways to recognize your employees for their hard work and dedication.

As you plunge into the New Year, think about how you can make an impact on employee morale through simple acts of recognition and appreciation. That's what we had on our minds when we developed this new, low-cost product:

Give out a casual day, consider these new "I earned a casual day" stickers.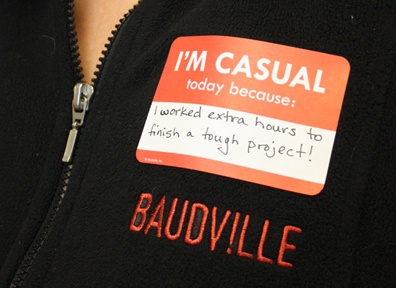 At just $0.35 each, your awardees can proudly display the reason they're wearing jeans when no one else gets to!

And, finally, there's still the good ol' high five. Works every time.
--------------------------
Allison is Baudville's one (and only) Copywriter. She's been writing for a variety of media for more than 10 years, so if she tells you she has been there and done that, she probably has. Before embarking on a career in writing, Allison worked as a department manager where she used Baudville products to motivate her team. She's what we call a true believer!