Last week, Cindy, our HR Manager, shared some information about how we plan special employee recognition events at Baudville. She talked about the cross-department team that organizes all our employee recognition events. We created the SPIRIT team to represent all departments in event planning, to bring more recognition ideas to the table, and add extra hands to the employee recognition event planning process.
One of the most difficult parts of employee recognition events is coming up with fun and creative recognition ideas. Here are a few Baudville favorites from past Customer Service Week celebrations to get you started. Customer Service Week is October 5-9, so there's still plenty of time to plan!
Ice cream social. Ice cream was brought onsite by a local ice cream shop, and ice cream was scooped and served by our CEO and SVP.
Lunch and the prize wheel. It's nearly a tradition at Baudville to end the week with a team lunch. Everyone enjoys sandwiches and an opportunity to spin the prize wheel for a Baudville gift, gift card, lottery ticket or day off.
Games for the desk. Employees look forward to our celebration weeks because they offer a change of pace from business as usual. Throwing in a couple games or puzzles they can complete at their desk is a simple recognition idea that keeps the celebration going even as work gets done.
Mock elections. Last year, employees were asked to vote for the company Chatter Box, Messiest and Cleanest Desk, Team Spirit and Baudville Clown among others. Winners had their pictures displayed inside an engravable photo frame. Many still have their "trophy" displayed on their desk.
Pictures! We love taking pictures from our events and later posting them on our intranet and internal newsletter. Document your Customer Service Week celebrations to keep the positive mojo flowing long after the event ends.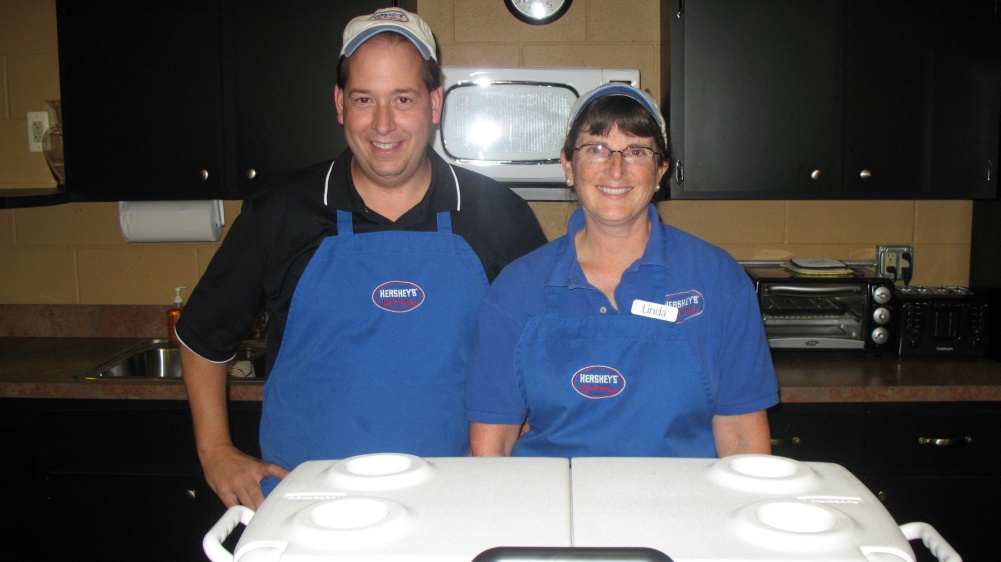 Prepared to serve up some ice cream for Customer Service Week!
--------------------------
Cori is a Certified Recognition Professional at Baudville and a member of the Millennial generation. In addition to writing for the Baudville blog, she's taking on the task of flooding the Twitterverse with positive mojo. Find out more - and join her cause! - at www.Twitter.com/Baudville using the hash tag #positivemojo.