I remember my Dad's retirement party well: it was in the early aughts and I was wearing this smashing purple-on-purple polka-dot dress (hmmm…wish I still had that dress…) and everyone was there: his former secretary from, like, 1974, past and present colleagues, friends, family, and, I could swear even one of his grad-school professors. I can picture the scene like it was yesterday, even though you'd think it would be a memory long-discarded—just like that dress.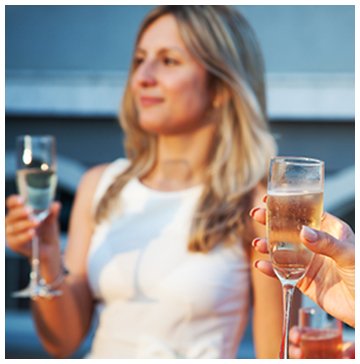 Why do I recall it with such detail? Because it was the perfect example of a retirement celebration done right. Everyone important in his career was there, the gifts were thoughtful and personal, and the presentation was representative of the level of reverence he deserved. I would have been proud of him, anyway, but to know that so many people respected, admired, and appreciated him made a powerful impression on me.
If you want to host a retirement celebration with a presentation that has that kind of impact, there will be a bit of planning to do, but we can help. And, you'll also need some help from some of your own and your retiree's closest cohorts. Here are some key elements to a successful event:
Invite Speakers. As you create your list of invitees, think about who you want have share their memories—and here's where you'll want to ask for ideas from close family or coworkers. Of course, you'll want to ask their permission and not assume that all of the speakers you have in mind will want to participate. However you approach your requests, make sure you give your speech-givers plenty of time to prepare what they want to say.
Give Mementos. You're probably thinking about an engraved trophy or plaque as a retirement gift from your organization—and we, at Baudville, support you 100% on that! But, also think about a gift that can be a keepsake for your retiree that everyone can participate in. Silly as it sounds, my Dad's friends and colleagues (with a little co-conspiring with my Mom) had a caricature drawn of my Dad sitting at his desk in his signature pose, framed it, and, at the ceremony, had every attendee sign it with their own special well wishes. It was funny, thoughtful, and a souvenir of the celebration—as well as of his career—that he has to this day.
Turn the Focus. During a retirement ceremony, all attention is on the retiree—as it should be. But, don't forget to give him or her the opportunity to recognize and acknowledge all of the important people and moments that made a difference along the way. This is an important courtesy that allows your retiree to not just be a beneficiary in the celebration, but an integral participant.
Ready to start planning? Read my other two posts in this series on Retirement Gifts and Ways to Celebrate for the full scoop!


--------------------------

Allison is currently living out the elaborate fantasy she described to her now-former staff and colleagues in early 2001. With a hearty dose of courage and absolutely no plan of action, she abruptly left her middle-management job to become a writer—and today she is doing just that in her role as Baudville's Senior Content Writer. She's here to tell you everything she's learned in her 20-years+ professional life, plus a lot more. She's wordy like that!