Thank you for joining me at today's Recognition TV webisode to talk about peer-to-peer recognition programs! You can watch the complete recorded version on Baudville.com or Baudville's Facebook page. Several of my tips, ideas and best practices are below, but I recommend you watch the entire video (it's only about 15 minutes!) to catch everything.
What is peer-to-peer recognition?
At Baudville, we've defined peer-to-peer recognition as the genuine expressions of appreciation between co-workers. Peer-to-peer programs typically equip the entire staff with low-cost tools and give employees the ability to recognize one another without any manager approval.
Does Baudville have a peer-to-peer recognition program? How does it work?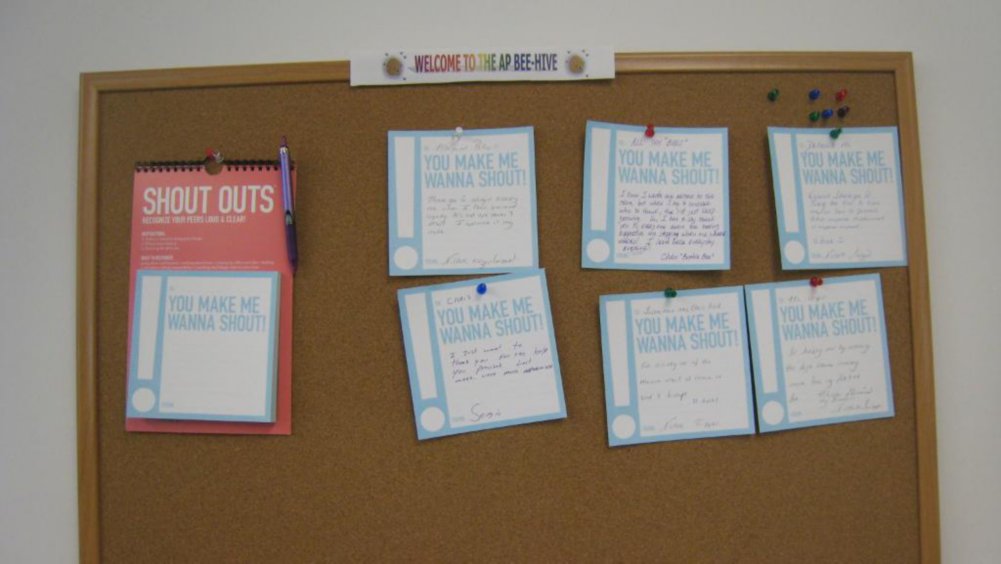 Yes, we do. Our program is called Shout Outs, and we designed it to reinforce our brand, values and culture. Allison did a great job explaining our program in a previous blog post, so visit her post for all the details.
We liked our Shout Outs program so much, that we made a version for our customers, too. It's one of our most popular peer-to-peer recognition programs. We recommend posting the Shout Outs pads in multiple common areas, so employees have access to recognition everywhere, all the time. Because the program is so simple to use and straightforward, employees begin using it right away without much training.
What are some of the benefits of peer-to-peer recognition program?
There are many benefits of peer-to-peer recognition! Here's a list of some of the primary benefits:
 Peer-to-peer recognition empowers employees to give recognition themselves
 It relieves some pressure off managers
 Employees have greater ownership in the program because they can give recognition without any manager approval
 Peer-to-peer recognition programs require little ongoing administrative work
 More employees receive recognition more frequently
 It can improve your culture
 Peer-to-peer recognition can impact loyalty and job satisfaction by increasing employees' sense of attachment and closeness to the company
 It can foster camaraderie and build more positive relationships between co-workers
 Peer-to-peer recognition crosses department and position lines – everyone has the ability to recognize everyone else!
What advice would you give to our viewers who are interested in starting a peer-to-peer program at their organization?
It's very important that the program reinforce your company brand, values and culture. Use a recognition theme that ties these different elements together or use one of our programs that's a good fit. Shout Outs comes in 4 different themes, Thanks for All You Do, TEAM, Essential Piece and Exclamations.
It's important to get buy-in early in the process. Make sure your organization's leadership is excited about the program and supports it. When we created our program, we pulled several different people into a brief brainstorming meeting to talk about program design and execution.
That would be my other piece of advice – don't do it alone! Involve some of your recognition enthusiasts to help get the program implemented. Even if you use one of our ready-to-go programs, you'll need to have organization-wide communication and some training on how to use the program.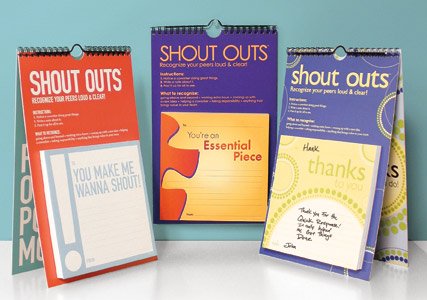 The key elements to keep in mind when creating a peer-to-peer recognition program?
One of the most important elements of peer-to-peer recognition is accessible tools. One option is to give everyone their own tools that they can keep at their desk. This way, they always have access to recognition. Otherwise, be sure to put the note cards or whatever tool you're using in a public place because the tools serve as a visual reminder for employees to recognize. Look at your high traffic areas – a few suggestions may be near the printer, coffee station or break room.
Again, having buy-in from your leaders and management team is very important. Even though peer-to-peer recognition takes some of the responsibility off of managers, they still need to be active and use the program.
I also recommend some kind of measurement that allows you to track participation in the program. When you measure results, you have data to show that you're meeting your participation goals and more employees are receiving recognition.
How do you maintain the momentum for a peer-to-peer program?
That's a great question and certainly one of the ongoing challenges of recognition. At Baudville, we provide an incentive for meeting our 100% participation goal. If we have 100% participation – meaning everyone writes one Shout Out during the month – the entire company gets rewarded either with a special casual day or a snack/treat. We've also recognized the individuals who have written the most Shout Outs and some of the most creative Shout Outs as reminders to the company that they need to recognize.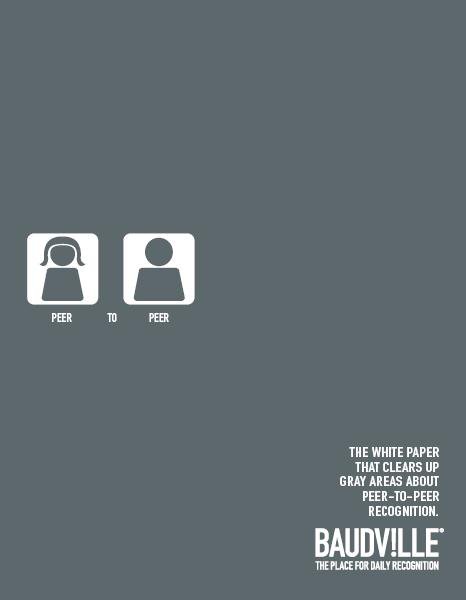 For additional peer-to-peer recognition resources:
 Watch the entire peer-to-peer Recognition TV webisode.
 Download our Peer-to-Peer Recognition White Paper from our Recognition Resource Center.
 Read the past blog posts on Peer Recognition.
 Ask a question of all the recognition practitioners on our Facebook page.
-----------------------------
Cindy is the Human Resources Manager at Baudville and has over 14 years HR experience. In addition to her HR Generalist duties, she's the center of positive mojo for the company and heads up many of our recognition initiatives, events and awards. In other words, she's got it going on!