At Baudville, we're in the midst of choosing this year's winners for our two yearly award programs. In fact, our staff just voted last week on our peer-nominated Luminary Award, which will be announced at our Year-End Holiday Party this Friday night. And, our top leadership are meeting to decide who will be our Inspire Award Winners—who will also be honored this Friday. Exciting times at the 'ville!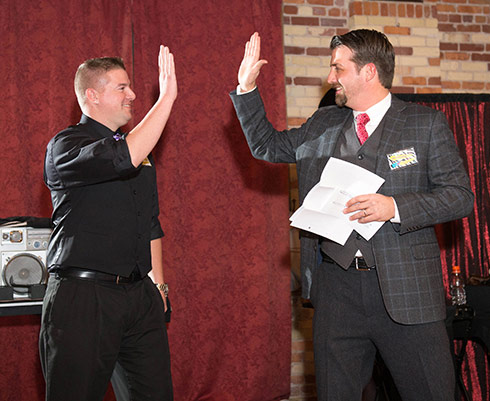 When I was thinking about who to nominate for our Luminary Award, it was a tough decision. Because, I am lucky enough to have many colleagues who fit the award-winning criteria! I went through my list, and five people came to mind (names changed to add a little mystery!):

Awesome Attitude Alex. Never underestimate the power of a positive outlook. You may think that optimism, energy, and enthusiasm aren't necessarily above & beyond characteristics. Maybe they aren't, but it isn't always about excelling either, is it? Alex influences his coworkers with his high spirits. He makes people feel happier and more at ease. He thinks about what is possible, not what isn't. He's important for morale and he's vital for muscling through challenges. That's kind of a big deal.

Born Leader Bette. At Baudville, we talk a lot about leadership. Specifically, about how one can be a leader without having a lofty title or a role of higher responsibility. Bette sets an example when she meets her obligations, carries herself professionally, helps her peers grow and succeed, and imparts in others a sense of trust and accountability. On this path, Bette may one day be a leader, but currently she's an inspiration in progress.

Loyal, Steady Lilah. Having someone you can count on at work is truly a gift. Lilah is the one who never misses a day, and always comes through when you need her. She's the one you reach out to when you need help right now because you can be certain she will take the reins and never drop them. She's competent, dependable, and consistent—and she's one of the valuable assets in your company who helps keep the ship afloat. That's worth some appreciation!

Team Player Theo. Here's the thing about Theo: he believes his own success is tied to his team's success. He knows that he brings his own unique skills and talent, but he is only part of the total package. He acknowledges others' strengths as much as his own and feels proud of his coworkers' achievements—not envious or competitive. Theo never says, "That's not my job." He does whatever it takes to get it done, whether he ultimately gets credit or not.

Rock Star Rebecca. She was on the top of my list, mostly because she embodies all of the aspects of an exceptional employee. She also ended up getting my vote because: she has a positive, can-do attitude that shines through even in challenging situations. She always goes above and beyond in her work, and does an exceptional job of building relationships with key customers and team members alike. Her enthusiasm is infectious and her dedication is admirable. Overall, she's a rock star. (I hope she wins this Friday!)

Does this sound like anyone (or several ones) on your team? Recognize them in your year-end awards ceremony! Need more award program ideas? Check out this newsletter article!
---
Allison is currently living out the elaborate fantasy she described to her now-former staff and colleagues in early 2001. With a hearty dose of courage and absolutely no plan of action, she abruptly left her middle-management job to become a writer—and today she is doing just that in her role as Baudville's Senior Content Writer. She's here to tell you everything she's learned in her 20-years+ professional life, plus a lot more. She's wordy like that!