In this month's Recognition TV webisode, we talked about Service Anniversaries. This is the one recognition program that you can find at all organizations! Recognizing years of service can affect employee morale, retention, and motivation, so make it count! Here are five tips you can follow in your organization that employees will fondly remember for years.
Watch the Recognition TV websiode here: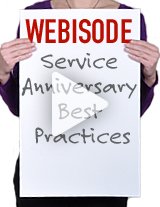 1. Recognize on the actual day of the anniversary.
Some anniversary programs have years of service gifts sent directly to the employees' home, or they may choose the gift on their anniversary and receive it on a later date. Even if your anniversary program requires you to do nothing to deliver the gift, make it a priority to deliver your personal congratulations on the day of your employee's anniversary. Acknowledge the employee's anniversary with a tangible gift – even if the company has already taken care of it. It doesn't have to be expensive, like a greeting card with your personal note, a certificate, or even a high five. If it's given sincerely, the recipient will love it.
2. Make it personal to your company and the recipient.
Your culture should be reflected in the way you celebrate service anniversaries. At Baudville, our first year anniversary gift is a fleece jacket with our logo embroidered on the pocket. These are a favorite among employees and have become a signature piece throughout the company. We love our fleeces because it serves as a symbol of our achievement. Plus, we get to choose the color of the jacket and embroidery, so it's always just the way we like it! This gift is a great fit for our culture because employees get to express their personal creativity, and it's fun and practical.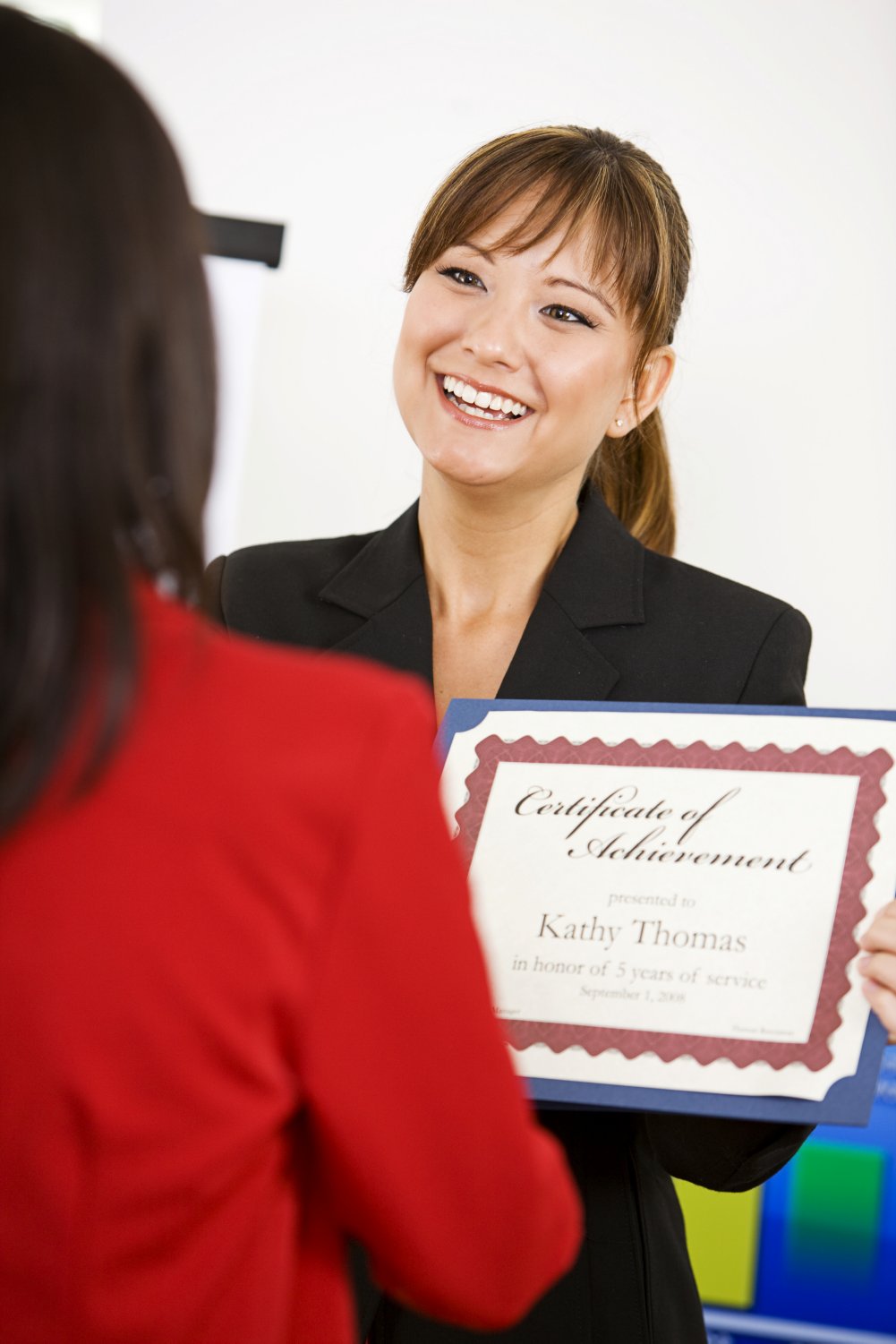 3. Do something every year.
The biggest mistake companies make today is holding off on recognizing anniversaries until employees have their five year anniversary. How many people leave your company before they even get close to five years of service!? If your organization values dedication and tenure (most do!), start recognizing it right away. It doesn't have to cost a lot! With the cost of turnover – and the fight for talent – you can't afford not to recognize those early years of service.

• For $10, you can take the employee out to lunch for some valuable one-on-one time.
• For $5, you can purchase an anniversary lapel pin for every member of your team with their specific years of service.
• For $2, present an award certificate on the complete certificate with paper, folder, seal, and ribbon. It will make a grand impression for a small dent in your wallet!
4. Make it a group mission.
Managers are an important part of service award recognition, but they shouldn't fly solo when celebrating years of service. Make it a group event! When you recognize a behavior, like years of service, publically, it sends a message to your entire team. This is powerful communication about what your organization values and what an outstanding employee or contribution looks like. Don't underestimate the power of public recognition! A well planned and executed award ceremony can provide long lasting motivation.

5. Don't underestimate the power of free.
There's a lot you can do to honor a service anniversary that doesn't have to cost you anything! When your teammates have an anniversary, shout it from the rooftop! Make a big deal about it if you want employees to take their time at your organization seriously. This is also a great way to publically recognize individuals who don't like to be the center of attention. By using these different media, you can be sure to express your appreciation without making them uncomfortable.

• Once a month, list all service anniversaries on your blog.
• Post a congratulations status update on Facebook on your company page.
• Send a tweet on Twitter.
• Send an ePraise card using the free system on Baudville.com. We have cards created especially for service anniversaries. All you have to do it add a short personal note and click send.
• Add a special column to your company newsletter that only lists anniversaries.
• Talk to your IT department about an anniversary spotlight on the intranet.
How does your organization celebrate service anniversaries?

---------------------------
Cori is Baudville's in-house Recognitionista (she's officially a Certified Recognition Professional, too) and a member of the Millennial generation. Get her employee recognition tips and special discounts by liking Baudville on Facebook.