Recognition ecards are great for recognizing employees who work different shifts or at offsite locations and popular with many people because they find it easier to type a recognition message to a co-worker than write a handwritten note. For effective everyday recognition, do both!
Decorate an employee's desk with your notes and their inbox with ePraise cards.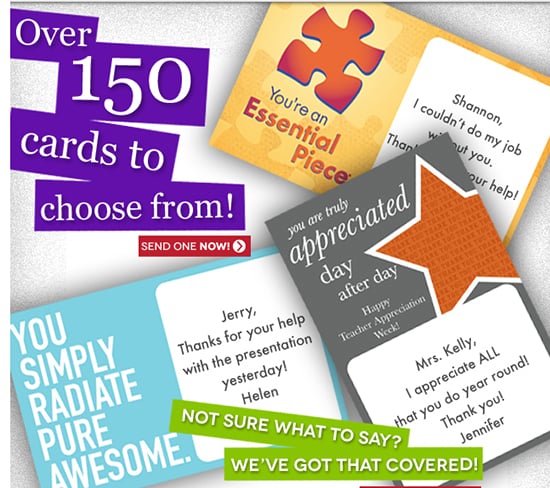 Immediate Recognition
ePraise is immediate recognition at its best. You can send a card any time of the day or night, and the recipient receives it immediately. Giving recognition immediately is the best way to reinforce the behavior and make a positive impact on the recipient.
Personal Recognition
Effective recognition is personal to the recipient and the situation. With ePraise, you can choose from over 75 cards to find the appropriate sentiment for the person and situation. Then personalize the card with your message. Write as much as you want! ePraise automatically adjusts the font size to fit your entire message. Don't forget to be specific about why you're recognizing the individual.
Everyday Recognition
ePraise cards are designed to be used for everyday recognition. Send an ecard to an employee or coworker to say "thank you" or "great job" for helping out with an assignment or participating in a meeting. ePraise is designed for recognizing everyday behaviors. Make sure the recognition is appropriate for the behavior before you hit send. If an employee exceeds your expectations in completing a major goal, sending an ePraise isn't the best way to recognize the accomplishment.
Recognition is most effective when it's given on a regular basis. Set a goal to meet the Gallup Organization's standard of giving recognition once every seven days, and create a reminder on your calendar with a link to ePraise. The recognition won't cost anything but a few minutes of your time, and the impact on the recipient will be huge!
Quick Tips
Add even more value to your personal ePraise and make the recognition memorable with these tips.
- Copy senior leaders on the ePraise
- Print out the ecard and personally deliver it to the recipient
- Send an ePraise to the entire team
- Give a themed recognition gift offline that matches the ePraise card
- Send ePraise cards that communicate your organization's values
Best Practices
An ePraise card is only as good as your personal note. Follow these five steps to write a great thank you note.
1. Begin with the recipient's name
2. Say "thank you" or "great job"
3. Be specific about the action or behavior you're recognizing.
4. Discuss the impact of the behavior or action on the team or organization.
5. Close your note with a second "thank you" or "great job," an appropriate sign off, and your name.
---
Jenny became a Baudvillian in 2013 and started out as a member of our sales team. She seemed to have a creative knack for Marketing and joined the team as Baudville's Web Marketing Coordinator. She loves our products and probably owns every piece of drinkware we have to offer! Equipped with great knowledge of our customers and products, she's excited to help make your email and web experience even better!