In addition to the wealth of resources you can find on our blog, Baudville.com is rich in content, ideas, guides, and resources to help you with your recognition initiatives. Over the next few weeks, we're featuring our favorite free recognition resources on the blog and via email to give you a taste of everything we have to offer.
Today, visit our website and check out our free daily recognition Print and Posts – a Baudville employee favorite! We've briefly talked about these on the blog here and here when we've come out with new designs, and we currently have four versions for you to choose from, including a set for nurses and teachers.
Print and Posts are a fun and free way you can recognize your employees and teammates because not all recognition has to be serious and formal. Have some fun with it! Cut out these fun sentiments and post them around your office for coworkers to find. Post them in unique areas like the bathroom stall or a co-worker's windshield.
A fun way to give daily recognition,
Print and Posts
are easy to use:
1. Print the page of funny sentiments.
2. Cut out your favorite.
3. Post it for your recipient to find.
4. Let the good times roll!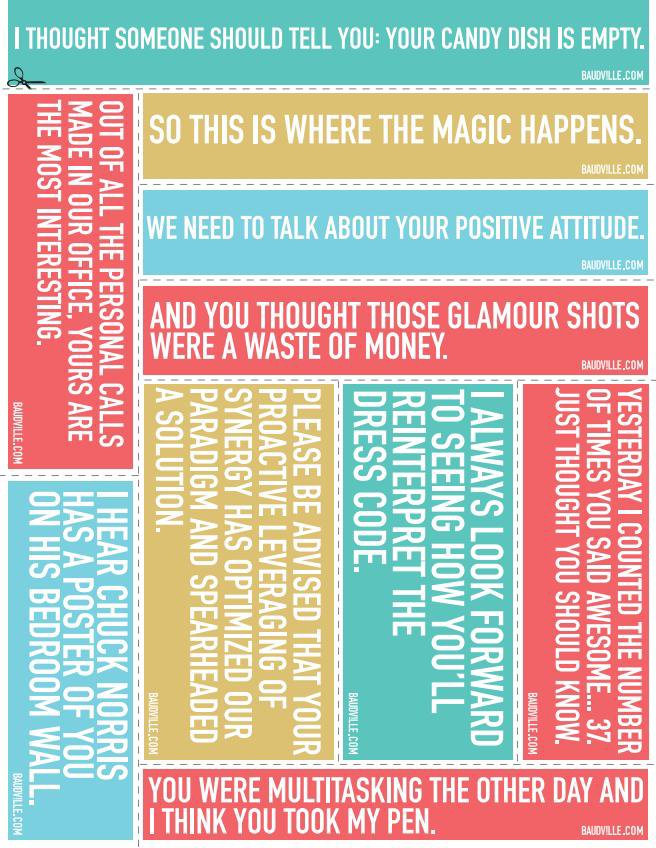 How will you use the Print and Posts in your organization? Where will you post them? Send us a picture to recognition@baudville.com or post a comment here to share your ideas!
----------------------
Cori is Baudville's in-house Recognitionista (she's officially a Certified Recognition Professional, too) and a member of the Millennial generation. Get her employee recognition tips and special discounts by liking
Baudville on Facebook
.