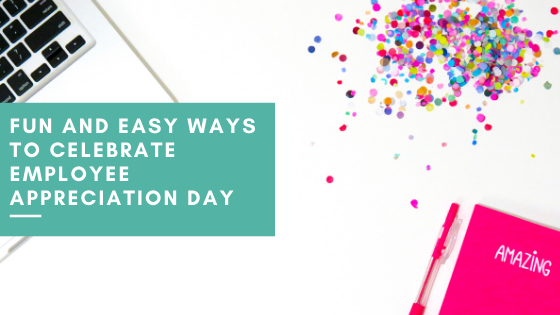 It's almost here! Yes, Spring (thank heavens) and Employee Appreciation Day!
Are you ready?
Even though we should appreciate our employees each and every day, there's something extra special about naming a specific day to thank those hardworking peeps who help keep our businesses afloat.
Here's a little inspirational poem to kick off preparations for the big celebration, followed by fun and simple ideas that are certain to show your employees just how much you care:
To my fine, fine team

I really must say

I'd surely be lost

If you didn't show up every Monday.

You work so hard

Sometimes late into the night.

What would I do without you

And your bright and shining [desk] light?

That light, it brings me hope

Even when clients get me down.

I'm so, sincerely appreciative

That you choose to stick around.

I will shout it from the hills!

"Praise be for all you do!"

You truly make a difference.

Many thanks for being you.

So, enjoy!

Let's get this party underway!

And cheers to many more

Employee Appreciation Days!
Fun Ways to Celebrate
Field Trip!
Who said field trips are only for elementary schoolers? Load up your team and head to a local art or history museum. Pack individual lunches in one of these reusable lunch totes, and include pencils and notebooks so they can sketch or take notes.
Picnic Anyone?
Whether indoors or out, create a picnic complete with red-checkered tablecloths, sandwiches (don't forget the vegetarians/vegans), chips, potato salad, and lemonade. Give everyone an economical, but luminous water bottle as a memorable take-home.
What non-profit cause do your employees feel passionately about? Maybe the Humane Society, a local food pantry, or homeless shelter? Show your staff that you appreciate them and their causes by giving each person a day off within the next six months to volunteer.
Sugar High?
Have you tried the Costco cakes? Big, delicious AND economical. On Employee Appreciation Day give them an extra half hour after lunch to celebrate with something sweet, also giving them a chance to socialize and enjoy each other's company.
A Few of Our Favorite Things
Seeds of Appreciation
Root your gratitude with an eco-friendly plant bag that gives your employees something to look forward to. As it begins to grow, they'll have a daily reminder of how much you cherish them.
Swag Bag
This tote-ally fantastic gift set will have your team working hard and turning the appreciation back toward you for weeks to come.
Keep the Work Fires Burning
Personalized gifts are always a hit and show that you've gone the extra mile. Add your employee's name and a custom message/graphic to this cozy campfire travel mug. They'll have warm thoughts of you everywhere they go!
Shower Them with Praise
Appreciation for a rainy day! With over 70 unique personalization options, this convenient, fold-up umbrella is certain to add a little sunshine to every downpour.
Tokens of Appreciation
Don't forget: employee appreciation should happen every day, not just one day a year. Start a token program with your staff—when they've earned five, give them the choice of a coffee gift card or leaving an hour early on a Friday.
Hooray! Now Get Started.
Time is of the essence! Employee Appreciation Day will be here before you know it. Plan ahead and make this an extra memorable one for your exceptional crew!
Check out our team motivation page for more #makingworkhappy inspiration and to help fuel your team's spirit all year round.