Here at Baudville we have knack for internal recognition. Yes, we sell it, but most importantly, we believe in it. We stand behind recognition and the amazing effects it has in the workplace! This blog post features one of our new Baudvillians, Juna, and how she recognized someone on her team with some really great ideas: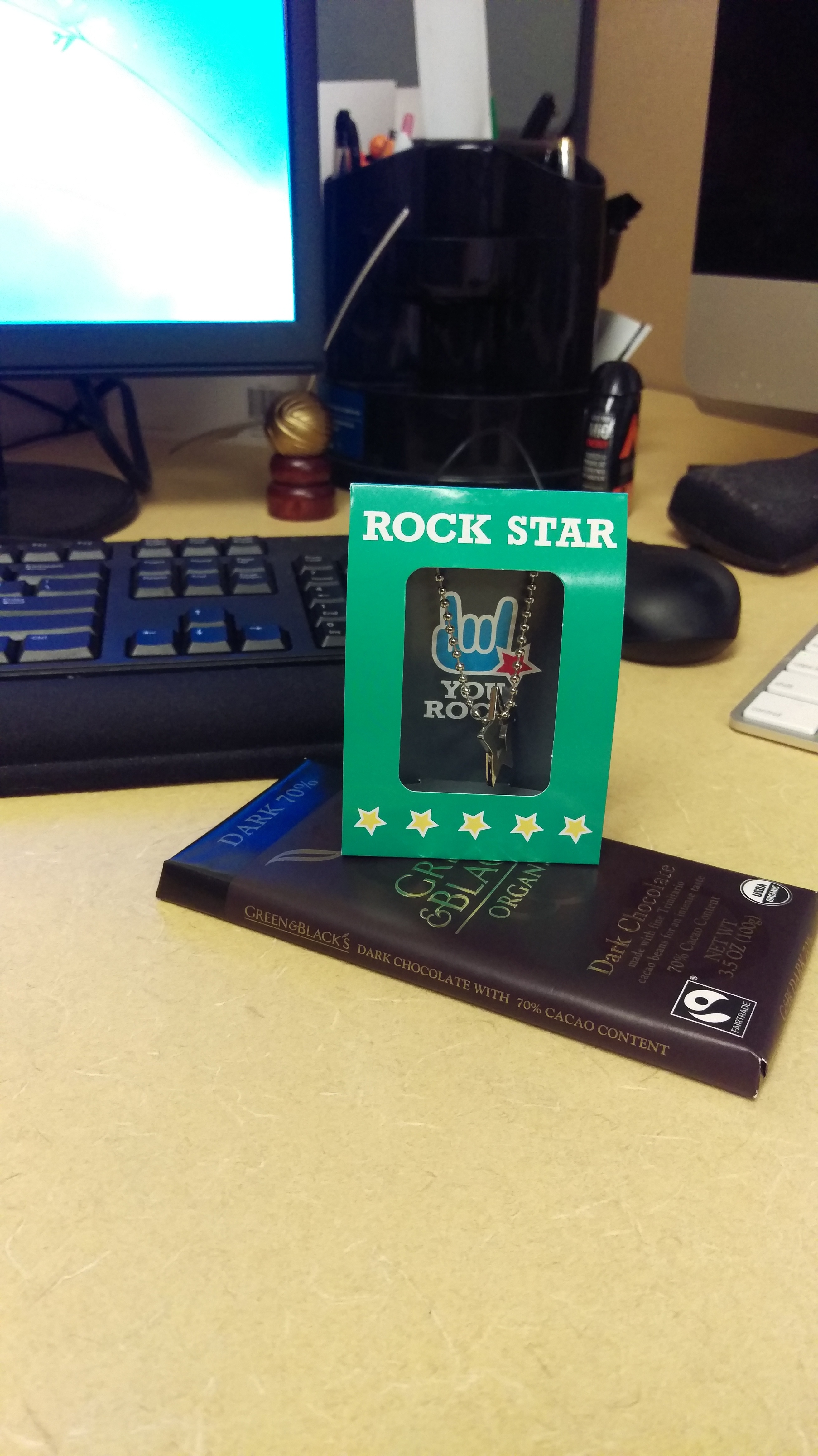 What did the person do to receive the recognition?
Stacy has been working hard on a new project that I assigned to her. Our project completion date is in mid-October, but she's been keeping us WAY ahead of schedule every week! It makes it really easy to report back to the project manager that we are ROCKING it out!
What did you do to recognize them?
I used one of our "Rock Star" pocket praise cards and wrote my note to her on the back. I also attached a star keychain on the inside for an added cute twist to the pop-up card. I also placed a sweet treat under it and left it on her desk after she left so she'd have a nice surprise in the morning!
How did you determine what you were going to do for them?
We have a shared love for DARK chocolate, so I really wanted to personalize my recognition to cater to her preferred treat! Our "Rock Star" pocket praise seemed to fit the situation perfectly.
When did recognize them (time span after event)?
We are currently MID-PROJECT, so I wanted to recognize how much I appreciate her efforts thus far, AND to encourage her to push through the remaining weeks. I always try to recognize and reward team members' awesomeness with something personal – I find it very easy to pick up on things people like, their "style", and the things that they would like to be recognized with through conversations in the workplace; either overheard or direct conversations. Even if it's something small like a note and a favorite candy, you know it makes their day and sends a message of individual appreciation.
Awesome! This is a perfect way to make a small gesture of recognition that makes a huge difference! Way to be stellar, Juna!

Our contest isn't over! Download any of the Joy of Recognition eBooks featured on the blog during September and be automatically entered to win $300 towards Baudville product! You'll be well on your way to creating the best employee recognition program imaginable.
---
Kaleigh joined Baudville in 2015 as the Digital Marketing Coordinator. She's got a love for all things content, knack for all things wordy, and a passion for web marketing. With her eCommerce background, she wants to be sure to make your web experience more than great.