Usually our Digital Marketing Coordinator, Kaleigh is busy blogging or clogging your social feed, but we caught her in the act - the act of recognition that is! Our favorite thing to do around the 'Ville is to recognize each other on a job well done. And that's exactly what Kaleigh did to say thanks to a fellow co-worker last week.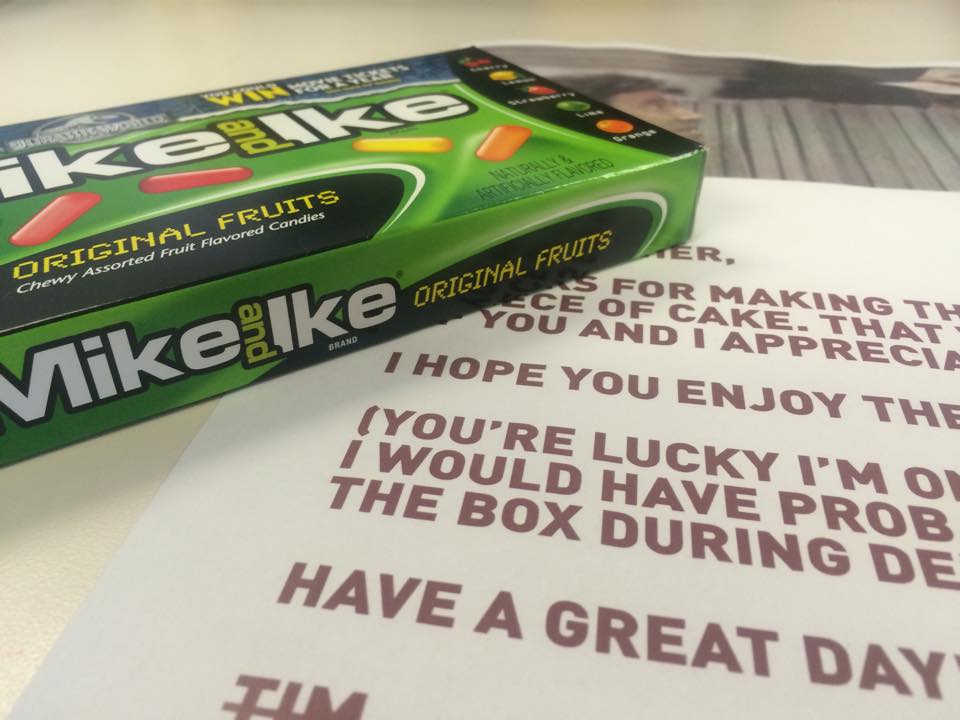 What did the person do to receive the recognition? CJ went out of his way to make one of my daily tasks much easier. He was also very helpful in explaining the new process.
What did you do to recognize them? He has a big sweet tooth and a great metabolism, and despite us being on our internal Baudville fitness challenge team together, I snagged him a box of one of his favorite treats, Mike and Ikes! I also wrote him a quick thank you note with a theme of an inside joke based around the show Home Improvement. I left it on his desk while he was away so he had a small surprise to come back to.
How did you determine what you were going to do for them? He's been helpful in other aspects of my work lately, too, and I felt it was a perfect opportunity to recognize his most recent efforts to make my job a little easier. He's always cracking smiles around the office, and I wanted to return the favor.
When did recognize them (time span after event)? The week of the changes he made, so quite promptly.
Anything else you want to say? A little recognition goes a long way! He personally thanked me and we had a good laugh over the note.
---
Kimberly is the Baudville Website Manager and star of our online product videos. She applies her knowledge of the web to create the ultimate online experience for Baudville customers.