At Baudville, we're passionate about supporting causes that are close to the hearts of our team members. It's why we got involved in the ALS Ice Bucket Challenge, and why every person who achieves a year of perfect attendance gets to match their monetary award with a charity of their choice. There are also our relationships with D.A. Blodgett - St. John's Home, Equest Center for Therapeutic Riding, and Gilda's Club Grand Rapids that help support our charitable mission to improve the lives of children. And, every other year, we also raise funds for either breast cancer or prostate cancer awareness.
It sounds like I'm not just tooting our regular horn, but a blow horn, I know. Dang, that's loud! But, really, I'm just saying: hey, we care! And, because we care, we've gotten pretty good at rallying our employees to give: whether it's time, sweat, cash, or even blood (from donating, not from injuries—no worries!).
In addition to spreading goodwill, these activities also have a powerful, positive impact on our culture—and we can all use as much of that as we can get! If you'd like to get your company and your team more involved in philanthropic and community giving, read on…
Since October is Breast Cancer Awareness Month, I'll start with a couple of initiatives that relate to that, but Movember is around the corner as well—and, really, these ideas will work for any event throughout the year.
Offer Incentives. The easiest and also one of the most successful ways we raise money for charity here at the 'ville is to sell casual days. They're free for the company, and highly coveted by our employees, which means huge returns. For Breast Cancer Awareness, we've added to the funds we generated by donating more on behalf of anyone who wore pink on scheduled days.
Make Your Incentives Even BIGGER! Last year, we learned something new: if you let your employees have a shot at the executives and top leadership of the company, they are really, REALLY responsive! We brought in a dunk tank and sold tickets for turns at the target, and, one after the other, our CEO, CFO, VPs, and Department Heads took multiple splashes. And, the funniest part was that they were just as motivated to take turns at each other as the rest of our staff. It was tons of fun and we raised more than $500 in one afternoon. Not bad, eh?
Create Buzz to Encourage Participation. Or, in this case, don't buzz—at least not for the entire month of November! It may seem illogical that people would buy in to an activity in which they get little or nothing out of, but it isn't! Taking part in Movember—not shaving facial hair for all of November—is a way for men to share camaraderie in a cause and raise awareness through their appearance alone. Not wanting to be the odd one out is part of the motivation, as well as the simple desire to support their male counterparts. At Baudville, we get sisters involved, as well, so everyone can contribute. You can read more about that effort here —and stay tuned: this year is a Movember year at Baudville!
Yes, we do put the FUN in fundraising—and we get outstanding results. Try these ideas and you can, too! Also, visit Baudville's Helping Hand to learn more about all of our recent contributions to the community.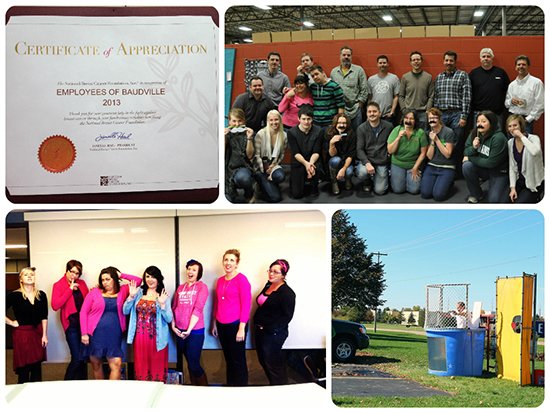 --------------------------
Allison is currently living out the elaborate fantasy she described to her now-former staff and colleagues in early 2001. With a hearty dose of courage and absolutely no plan of action, she abruptly left her middle-management job to become a writer—and today she is doing just that in her role as Baudville's Senior Content Writer. She's here to tell you everything she's learned in her 20-years+ professional life, plus a lot more. She's wordy like that!