As you move into fall and celebrate the return of your starry-eyed vacationers, what better time to start a day-to-day recognition program? Your team is refreshed, your office is fully staffed, and you're rarin' to go for the rest of the year!

Enter the new Thanks Cheers Kit: simple to use, right at your fingertips, and incredibly easy on your time and your budget. With simple messages of appreciation that work for many different occasions, you won't be short on ways to show your gratitude.

The best part is that Cheers Notes can be used by everyone on your team. Keep the kit on your desk or in a central location so that when a moment arises anyone has the opportunity to say thanks.

Let this new Cheers Kit work for you, then sit back and watch the magic happen! Find it here and all of our Cheers Kits here.

Cheers!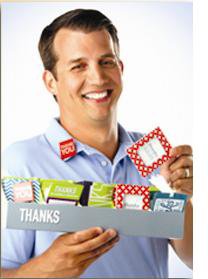 --------------------------------------------
Brad Darooge is President and CEO of Baudville and a positive mojo aficionado. He brings the positive mojo to work every day along with his bike. In addition to leading Baudville, Brad is also an amateur triathlete.