Award season is upon us, and, here at Baudville, we're preparing for the presentation of our two most coveted awards: the Inspire Award and the Luminary Award. Selected by our top leadership, Inspire Award winners have performed at such a high level that they have caught the attention of and thoroughly impressed the CEO, CFO, and VPs alike. It is quite the honor!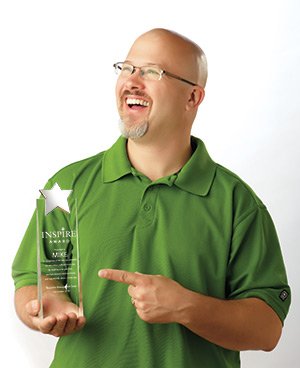 No less significant, our Luminary Award is a peer-nominated award given to the individual who best exemplifies Baudville's core values. We know that acknowledgement by colleagues is a key element to any successful recognition program, as it fosters mutual respect, appreciation for others, and camaraderie among all team members.

Both awards will be announced at our Year End Party, and our presenters are busy getting all the details in place.


Why prepare? Well, if you're going to go to the trouble of selecting your honorees and choosing the perfect awards to highlight their important achievements, you need your award presentation to match the momentousness of the occasion. Here's how we do that here at the 'ville.

Gather Information. For the award presentation to feel meaningful, the presenter should share some personal notes about the recipient. Knowing his or her history with the company, including milestones achieved, is a good start. But what about outside of work? What fun facts can you divulge that will show everyone you know what's special about your awardee?

Spotlight the Achievement(s). Giving a clear reason for the award is essential. "She's just great!" or "He's the best!" just won't do here. By focusing on the specific behaviors and accomplishments of the individual, you send a message of what's important to your organization. Your recipient will know what to keep on doing, and his or her colleagues will know what to do to be the next big honoree.

Say Thank You. In the end, it's all about the appreciation. Your award recipients are being recognized because they have benefitted your business in a tangible way. Their success is your success, after all. Show your heartfelt gratitude with a smile and a handshake and you have the perfect end to what will surely be a perfect award presentation!

For more tips and ideas, download our free Award Presentation Guide!

--------------------------

Allison is a self-proclaimed Copywriting Diva and has the certificate to prove it! She's been writing for Baudville for four years and has worked in a variety of business settings for more than 19 years. Before becoming a professional writer 12 years ago, Allison worked as a department manager where she used Baudville products to motivate her team. She's what we call a true believer!