Baudville is no ordinary place to work – we drop our executives into dunk tanks, pour our hearts into philanthropic ventures together, and wear jeans for a good cause. For these reasons, our team members are no plain Janes or even Stevens either – they're super stellar rock stars! Get to know them one-by-one and we're certain you'll agree.
1. Who are you and what do you do here at Baudville?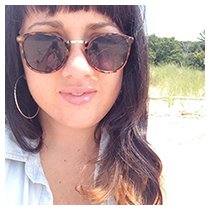 My name is Kylee and I am one of the very talented creative gurus here at Baudville! To break it down, my title is "Junior Graphic Designer" and my primary focus is marketing and web design.
2. What's your favorite part about your job? / What is the most interesting part of your job?
The favorite part of my job is the atmosphere. I can come to work on a Monday, the most dreaded day of the week, and be greeted by my creative team with such energy and positivity.
The most interesting thing about my job is the vast responsibilities and opportunities I have been presented with since being employed by Baudville. I have worked on projects like greeting card design, product design, web design, catalog design, and commercial product photography—and not to mention traveling for our catalog press checks! I would have to say the most interesting is definitely 'Christmas in July.' Designing and brainstorming for Christmas in July is quite the task, especially when you have your lunch break in the 90-degree weather!
3. What is something that none of your coworkers know about you?
Whether they like it or not, they pretty much know everything. I'm quite the open book and wear everything on my sleeve!
4. What was your favorite recognition moment here at the Ville? / What is your favorite day here at the Ville?
My favorite recognition moment thus far was in one of our all-staff meetings when our CEO, Brad Darooge, congratulated us on yet another year of being a 'West Michigan 101 Best and Brightest' winner.
It is very refreshing to know that I work for a great company that appreciates its employees and has a great vision for the company's future.
My favorite day so far here at the Ville is when we had the dunk tank and the funds we raised went toward the National Breast Cancer Foundation. We had the opportunity to donate to receive the chance to dunk not only our CEO, but other important figures on the executive team.
5. Who inspires you?
In the workplace, I would say that my Creative Manager, Laura, is very inspiring. She has been with Baudville for quite some time and has worked very hard to get to the position she is in. She has a ton of respect from everyone in the workplace—not to mention she is extremely talented. She does a great job with keeping her cool when everyone else feels the heat. She pushes us to be the best we can be and always points us in the right direction without telling us which way to turn. Her success and talent is very admirable for her young age.
6. When you're not at Baudville where can people find you? What is your favorite hobby?
You can usually find me in Downtown Grand Rapids exploring the city or soaking up the sun on Michigan's beautiful coastline.
7. What's your favorite app and why?
My favorite app is 'Meetup.' It's an app that focuses on finding groups near you who have the same interests, whether it's kayaking or free yoga classes. Being a somewhat recent transplant from the east side, I like to stay active and meet new people! This app is great because you put in your interests and it shows you groups in the area that have activities similar to what you enjoy to do.
8. What was your favorite vacation or favorite vacation place?
In 2013 I went on a cruise with my father and it was my first cruise ever! We were on the largest cruise ship in the world: Royal Caribbean Oasis of the Seas, and we visited the Caribbean. It was amazing! Not to mention it was all paid for by his company; nothing feels better than free!
9. What Smart Saying best represents you? If we don't have one, what one would you want to create?
'Proud Member of a Gifted Team' represents me best. My creative team is truly amazing; I can't emphasize it enough!
10. Is there anything that we missed that you would want people to know about you?
When I was hired in at Baudville, I made a ton of sacrifices. I left my family, friends, job, a very serious relationship, and everything that I've ever known to move across the state alone and start fresh. There isn't a day that goes by that I regret my decision. Baudville welcomed me with open arms and became my new family. Grand Rapids is my new home and I am very proud to say that, and it is all thanks to the great opportunity that Baudville presented!

--------------------------

Allison is currently living out the elaborate fantasy she described to her now-former staff and colleagues in early 2001. With a hearty dose of courage and absolutely no plan of action, she abruptly left her middle-management job to become a writer—and today she is doing just that in her role as Baudville's Senior Content Writer. She's here to tell you everything she's learned in her 20-years+ professional life, plus a lot more. She's wordy like that