Baudville is no ordinary place to work – we drop our executives into dunk tanks, pour our hearts into philanthropic ventures together, and wear jeans for a good cause. For these reasons, our team members are no plain Janes or even Stevens either – they're super stellar rock stars! Get to know them one-by-one and we're certain you'll agree.
1. Who are you and what do you do here at Baudville?
I am Melissa Wolf, the accounting manager here at Baudville. What do I do? I would think that 95% of the readers would find what I do boring, but I love it. I enjoy all the spreadsheets, forecasting, auditing, inventory control, problem solving, etc. In general, an accountant's job is to provide and protect the financial integrity of the company—so that is what I try to do daily.
2. What's your favorite part about your job?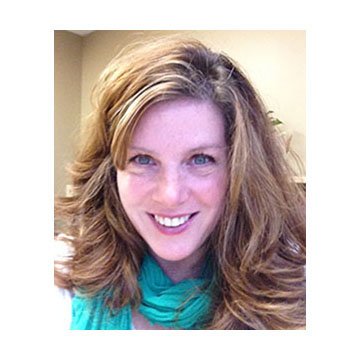 The best part are the people I get to work with. I enjoy learning new things and thoroughly enjoy when I see someone learn, grow, and flourish here at Baudville.
3. What is something that none of your coworkers know about you?
My dream when I was younger was to dance in a musical on Broadway. Of course, you must take lessons, be good, and not be too shy—and I possess none of those. A few years ago, I bought myself some tap shoes and a CD of how to tap dance, thinking to myself, "It can't be THAT hard." Guess what? It is, and needless to say those shoes were finally given to Goodwill this year in hopes that someone without two left feet can fulfill their dreams.
4. What was your favorite recognition moment here at the Ville?
I would say my favorite moment was my 10-year anniversary. The company gave a large donation to a charity that is very near and dear to my heart. I was very surprised by it and extremely grateful.
5. Who inspires you?
My dad. He is the most calm, patient, and generous person. Before he retired, he had such a great work ethic and dedication to his job, and enjoyed his work as a controller. I continually try to gain and maintain those traits in myself.
6. When you're not at Baudville where can people find you? What is your favorite hobby?
You won't be able to find me, as I stay pretty hidden most of the time. I spend time reading, playing games on my iPad, and watching Downton Abby, Survivor, Amazing Race, Modern Family, and Project Runway. If you spot me out, I would be out to dinner with some friends or at the mall or at a movie. During the summertime, you will find me at craft shows, antique markets, and antique shops (hopefully with my hands full of treasures!)
7. Do you have any pets?
I have one kitten named Zyggi and he is the cutest most fun pet ever. He has this crazy obsession with my hair scrunchies and I have to keep buying new ones as he takes them and hides them somewhere.
8. What's your favorite app and why?
I love to play games and my favorites change—right now, I am into Candy Crush (thanks to Kim and Brenda – curse you!!). I also like time management games like Roads of Rome and Royal Envoy. All Recipes is another app I like, so I can look at all the delicious recipes that I will never make.
9. What was your favorite vacation or favorite vacation place?
Maine is my favorite place to visit. Having just discovered it two years ago, I really enjoy the funky, creative, and cobblestoned streets of downtown Portland; the sea air, Acadia National Park, and relaxed feeling in Bar Harbor and the lobster… oh, the lobster.
10. What Smart Saying best represents you?
One Team, One Goal. Plain and simple.
11. Is there anything that we missed that you would want people to know about you?
Um no, I think I have said more than I have said in my 12 years here—Whew!
--------------------------
Allison is a self-proclaimed Copywriting Diva and has the certificate to prove it! She's been writing for Baudville for five years and has worked in a variety of business settings for 20 years. Before becoming a professional writer 13 years ago, Allison worked as a department manager where she used Baudville products to motivate her team. She's what we call a true believer!