Baudville is no ordinary place to work – we drop our executives into dunk tanks, pour our hearts into philanthropic ventures together, and wear jeans for a good cause. For these reasons, our team members are no plain Janes or even Stevens either – they're super stellar rock stars! Get to know them one-by-one and we're certain you'll agree.
1. Who are you and what do you do here at Baudville?
My name is Terence Betts. I am a Technical Support Specialist for Baudville/IDville.
2. What's your favorite part about your job? / What is the most interesting part of your job?
The best thing about my job is being able to interact with the customers. In Tech Support we deal with the customer when they need assistance with their equipment and software. Helping the customer and making sure they are satisfied is what makes my day.
3. What is something that none of your coworkers know about you?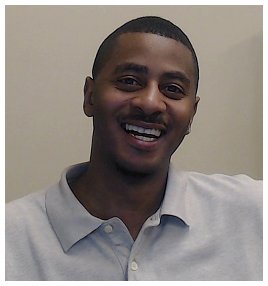 I hate riding tall rollercoasters. Like the ones that seem to touch the clouds. You could not pay me to ride one of those. LOL.
4. What was your favorite recognition moment here at the Ville? / What is your favorite day here at the Ville?
My favorite day here at the Ville easily was Employee Appreciation Day. It was an Amazing Race Theme at the office and everyone was broken into teams. We took turns going around the building doing different activities competing for prizes. It was very different and exciting compared to other places I have worked.
5. Who inspires you?
My mother inspires me. In 2005 she left her job here in Grand Rapids to help my Grandmother with my Grandfather. Due to an illness he had to have both of his legs amputated. She has been down there ever since and has been by my Grandparents' sides until my Grandfather passed away in 2012 and my Grandmother passed away in April of 2014. Seeing my mother make this sacrifice for her family made me appreciate her even more as my mother.
6. When you're not at Baudville where can people find you? What is your favorite hobby?
When I'm not at Baudville you can find me outside enjoying the day. I like to step away from the computer and basically "unplug" myself from the internet world to gather myself.
7. Do you have any pets? What Kind? What are their names? How did you come up with the names?
I have a 5-year-old Cocker Spaniel name Trinity. We named her after Trinity from The Matrix. (My fiancée and I are big Matrix fans.)
8. What's your favorite app and why?
Right now my favorite app is the Google Chromecast app.
With Chromecast you can use your phone to watch movies like Netflix on your TV. I can simply go to my Netflix app and pick a movie from my phone and it will play on my TV if I have the Chromecast attached to my TV.
9. What was your favorite vacation or favorite vacation place?
My favorite vacation was when I went to Las Vegas. I have been three times. It was quite an experience with all the big buildings and bright lights. I think everyone should go at least once in their lifetime.
10. What Smart Saying best represents you? If we don't have one, what one would you want to create?
It's so hard to pick just one because they all are pretty cool. However, if had to, I would pick: "My Boss Thinks I'm Kind of a Big Deal." It just says how awesome you are if your boss thinks highly of you.
11. Is there anything that we missed that you would want people to know about you?
One of my hobbies I failed to mention is fishing. Since I was a kid I liked to fish. My father would take me to the lake in his boat and we would fish all day. Fishing is the one thing I can do that takes me away from everything. I can get on the lake and turn my phone off and fish for hours.
--------------------------

Allison is a self-proclaimed Copywriting Diva and has the certificate to prove it! She's been writing for Baudville for five years and has worked in a variety of business settings for 20 years. Before becoming a professional writer 13 years ago, Allison worked as a department manager where she used Baudville products to motivate her team. She's what we call a true believer!