Fourth of July is on a Wednesday – who scheduled that!? It's tough having a holiday in the middle of the week, and we know that it will probably zap productivity today. Most likely, your staff is waiting for you to say the magic words (time to go home) and begin their mid-week summer holiday.

Take advantage of the mid-week summer holiday to express appreciation for your team. Download our free Freedom Passes and write a short note of thanks for each individual on your team. Pass it out to employees and send them home with a Happy Fourth of July!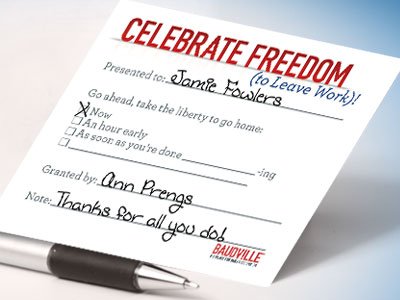 Why? This appreciation is easy, free, and meaningful. Your employees will love it, and they'll appreciate you in return.

Have a fun and safe Fourth of July!
-------------------
Cori is Baudville's in-house Recognitionista (she's officially a Certified Recognition Professional, too) and a member of the Millennial generation. Get her employee recognition tips and special discounts by liking Baudville on Facebook.