My husband and I recently traveled to Florida for vacation. I made my list of items to pack and things to do: sunscreen ✓, swim suit ✓, get out of work mode ✓. My biggest challenge when going on vacation is to get my husband, Steve, out of work mode.

On our second night in Florida, we were transitioning from a beautiful resort at Hollywood Beach to a timeshare unit north of Ft. Lauderdale. We arrived at the timeshare to discover that our unit was not yet available, so, to pass some time, we decided to find a restaurant on the ocean to take in the view, relax, and have dinner. We put our name on the waiting list and headed to the bar to have a cocktail and wait for our table. As we were enjoying the amazing view of the ocean, we met a couple: Ellen and Pat. We struck up a conversation and realized that we had a lot in common with them. When our pager lit up to notify us that our table was ready, my husband asked me if I wanted the table. We were having such a great time that we were totally content eating dinner at the bar and hanging out with Pat and Ellen.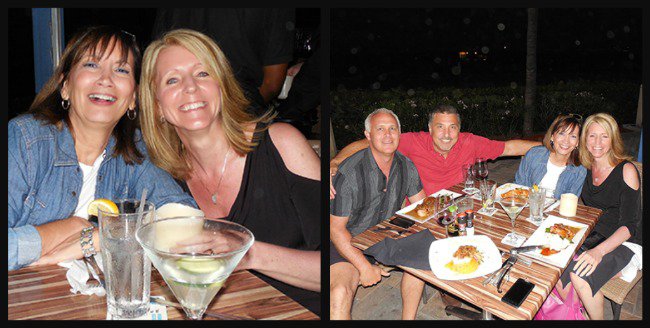 After dinner, we realized that it was time for us to head back to the timeshare unit to get our key before the office closed, but we were still not ready to leave. My husband called the timeshare office and they gave him a code to open the lock box to pick up our key after hours. I reached in my purse and took out a Baudville envelope that I used to store my work fitness challenge information in, and wrote down the code. When I took out the envelope, Ellen had a very surprised look on her face at the sight of the Baudville envelope and asked me why I had it. When I told her that I worked at Baudville, she was shocked. Ellen is a VP at TD Bank, in Florida, and had just made a purchase from Baudville, in Grand Rapids, MI, for Employee Appreciation Day. She told me that she loved Baudville and that she couldn't believe that she had met someone who works there.

So, for all the effort I was making to get out of work mode, Baudville helped me to connect to a very special couple. I realized that Ellen and I have a lot in common in how we feel about people in general. I was not surprised to hear that TD Bank values people and believes in investing in their employees. Much like Baudville, TD Bank does a lot to give back to their community as well.

You meet a lot of great people as you travel through life. Some that you find commonality with and others with whom you share a special bond. Pat and Ellen are the kind of people you meet and know that you will likely stay in touch with them for years to come.

Now, to finish my story: Pat, Ellen, my husband, Steve, and I met again for dinner three days later. I shared this experience with Baudville's CEO, Brad Darooge in the interim and he made our evening even more special by picking up the tab. Thank you, Brad! I'm proud to work for a company that truly values and cares for people.

It's funny how work can follow you wherever you go. I'm so glad to have connected with such great people and to share this story with you. Kudos to TD Bank for being an award winning company! Ellen, if you are reading this blog, save us a spot with a great view of the ocean. We'll be back soon!
-----------------------------
Cindy is the Human Resources Manager at Baudville and has over 14 years HR experience. In addition to her HR Generalist duties, she's the center of positive mojo for the company and heads up many of our recognition initiatives, events and awards. In other words, she's got it going on! Follow Cindy on Twitter @CindyGilmanPHR for HR updates from the place for daily recognition!