p> Dear friends,
As I sit down to write to you, our valued customers, I'm taking note of the odd calm that's been hanging over the 'ville for the past few days. One that we haven't felt in months. Well, practically since the beginning of 2012.
We had big plans for this year and some pretty lofty goals as well. As the final days are upon us (I'm not talking in a Mayan Calendar kind of way) we're now in a place to look back on what we achieved.
It was a heck of a lot, actually. And, truly, we did it all for you.
We know that as the workplace changes and as the measures of success are continually redrawn, it can be challenging to find new ways to engage and motivate your team. The fresh products and programs we've been developing over the last year address those needs in surprising and innovative ways. And in just a few days, we'll be unveiling them all to you in our new catalog and on Baudville.com.
In the mean time, I'll be reflecting on what makes us, at Baudville, successful. And the answer once again is: YOU.
I am deeply thankful to you for shopping with us, for talking with us, for laughing with us, and for sharing your challenges with us. You make us stronger, and, in turn, our goal is always to help you and your business be stronger.
With appreciation, I wish you a wonderful holiday season, happy times with family, friends, and coworkers, and a prosperous new year!
Cheers!
Brad
Here's a sneak peek at what you'll see: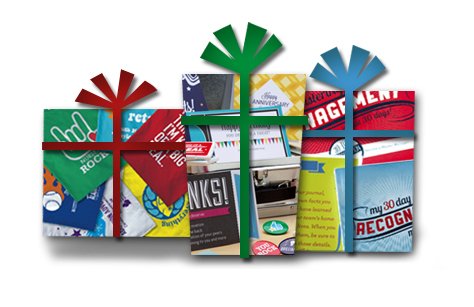 --------------------------------
Brad Darooge is President and CEO of Baudville and a positive mojo aficionado. He brings the positive mojo to work every day along with his bike. In addition to leading Baudville, Brad is also an amateur triathlete.