One of my favorite holiday weekends is finally here! (and a bonus – three-day weekend)! Hopefully you can talk your boss into handing out our Freedom Passes to let you leave work a little early so you can get a jump start on the festivities!
I come from a family who's full of traditions, and ever since I can remember my grandpa will get up early to blare The Stars and Stripes Forever, every July 4th. Now if you are familiar with this John Philips Sousa classic, you know it just plays on and on! I am sure the neighbors love him for that! Once the music has played, the festivities can begin. The weekend is full of family, friends, food, fireworks and more.
Whatever this holiday weekend brings your way, enjoy!

Here are some interesting and fun facts I'm sharing with you in preparation for the Fourth!
• The "Star Spangled Banner" was written by Francis Scott Key during the War of 1812 and not decreed the official national anthem of the United States until 1931.
• To avoid cracking it, the Liberty Bell has not been rung since 1846. To mark the quintessential day, every fourth of July it is symbolically tapped 13 times.
• In July, 1776, the estimated number of people living in the newly independent nation was 2.5 million. According to the U.S. and World Population Clock, the nation's estimated population is 318.4 million!
• The average age of the Signers of the Declaration of Independence was 45. Benjamin Franklin was the oldest at age 70, and Edward Rutledge was the youngest at age 26.
• The percentage of American homes with an outdoor grill is 87 percent.
• Americans consume about 155 million hot dogs on Independence Day alone; it is the biggest hot dog holiday of the year.
• Benjamin Franklin proposed the turkey as the national bird, but was overruled by John Adams and Thomas Jefferson, who wanted the bald eagle.
Be sure to grab our reusable event cup, strike up the band and enjoy this holiday weekend!
Oh…and don't forget 275 new products launch on Monday!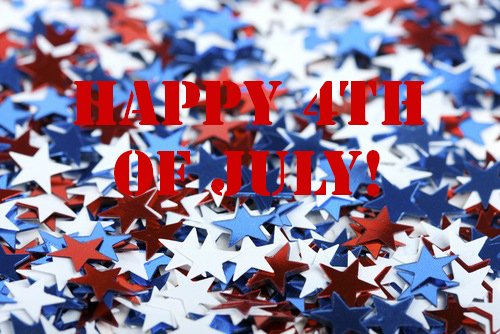 --------------------------

Jenny became a Baudvillian in 2013 and started out as a member of our sales team. She seemed to have a creative knack for Marketing and joined ranks with Krista in 2014 as Baudville's second Web Marketing Coordinator. She loves our products and probably owns every piece of drinkware we have to offer! Equipped with great knowledge of our customers and products, she's excited to help make your web experience even better!