I have a confession: last week I announced on Facebook that I would be taking a Facebreak. I probably didn't need to broadcast this little tidbit, except that making it public was definitely a good way to keep me accountable to my promise. But, that's not the confession part…the sad truth is that I only lasted a wimpy three days before I was logged back in and plugged back in—just like that.
Why is this a big deal? It isn't in the grand scheme of things, but it is considering how much research and writing and soapboxing I've been doing about our over-dependence on technology, as well as our lack of mindfulness when we are tuned in to our devices. In short, I was having a walk the talk moment.
And, since my smirking face is gracing the inside page of our October 2014 issue of RecogNation, I thought it best that those around me not see that face constantly looking down at a 2¼ x 4½ inch screen.
Yes, you guessed it, this issue is all about what we're calling 21st World Problems: the clash of technology, social media, and the emerging workforce. In it, we explore the modernisms of the new century: social networking, smartphones, Generation Net, unlimited connectivity, and instant gratification—and more, all evolving by the minute. Knowing how to respond to and navigate this rapid change, when to write policies and when to convey unwritten rules—it's all a delicate balance.
Want to know how we're handling it? Read this issue of RecogNation!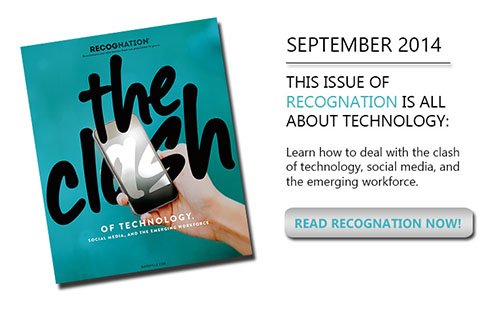 Feeling inspired? Bring some employee recognition savvy to your inbox by subscribing to the Baudville Blog!

--------------------------
Allison is currently living out the elaborate fantasy she described to her now-former staff and colleagues in early 2001. With a hearty dose of courage and absolutely no plan of action, she abruptly left her middle-management job to become a writer—and today she is doing just that in her role as Baudville's Senior Content Writer. She's here to tell you everything she's learned in her 20-years+ professional life, plus a lot more. She's wordy like that!