One of the ways to earn big points in our fitness challenge was to eliminate an unhealthy behavior. But, to claim the points, we had to quit the offending act for the entire 10 weeks of the challenge. Oi! Many of us cut out fast food; others pledged to get the recommended daily intake of water. But, our hero, Ryan, went for the big guns.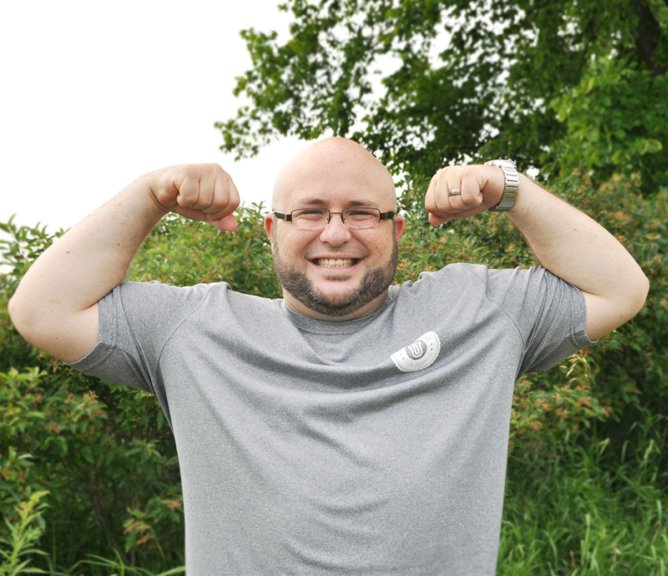 Here he is to tell you about it...

What motivated you to make healthy lifestyle changes?
Basically, I noticed that I wasn't able to move like I used to on the basketball court. At that point my mind began to run wild…I became incredibly concerned that I wouldn't be able to play the part in my child's life that I'd always dreamed of. She's three now, and I want to be able to keep up with her at 13! And 23!!

Was the Baudville challenge an incentive?
More like a reminder…

What kinds of changes did you make and what results did you see?
I quit smoking!! I'm feeling better as the days go by! It's like I have another gear on the court. I'm still working on shedding some weight, so most underestimate me out there, and I LOVE IT!!!

How do you feel about those results?
I'm feeling the best I've felt since early high school!!

At any time did you struggle to keep on track? If so, how did you handle it?
I did struggle at times. It was mainly when we would go out for dinner and drinks. For some reason the taste of beer amplified my cravings by 20!! But, I managed to stay strong and remember my motivation.

What advice do you have for others who want to make healthy changes?
Find your motivation. I have a picture of my daughter Olivia on my desk, in my car, and, of course, all over the house. She's all the motivation I need.

Do you have plans to continue your progress or maintain your status quo?
I'm not going to change much. I like the way I feel and the extra $1800+/year I will be putting in my pocket without buying cigarettes every day!!

Wow! All I can say is: Way to Go, Ryan!

Quitting smoking is not easy; but it can be done. Have you quit smoking? Share your tips and advice for how to make it happen!