Today's post for the Health & Wellness Series is all about teamwork! It's starring John and Stacy, a couple that not only works together—they work out together! They recently completed P90X, a 90-day workout that is, in a word: hardcore! (So I've heard, anyway…)

By committing to the workout and other lifestyle changes as a team, John and Stacy stayed motivated and on track—and saw impressive results in the end!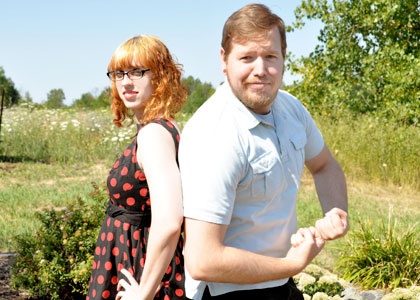 Here's how they did it:

What were your fitness goals at the start of the challenge?

Stacy: I wanted to start exercising more, not really to lose weight, but just become more toned and healthy.

John: I wanted to get rid of my gut and become more fit. To stop relying on caffeine/energy drinks, eat better, and start and stick with an exercise routine (I was doing NOTHING as far as exercise before this). More specifically I wanted to take on and complete P90X!
In what way did the challenge help you reach your goals?

Stacy: I had already started to do P90X with John but the challenge really helped since it added pressure to not quit after a few weeks. Also, it really helped me with my fruit, veggie, and water intake. I really needed an incentive to do that part since I'm a notoriously unhealthy eater and I could live off of just drinking Red Bull and coffee.

John: I eliminated almost all caffeine from my diet and now drink lots of water instead of soda. I pay a lot more attention to what I eat and the number of calories I take in. It has made me significantly more active and now that P90X is coming to a close I am looking to create a new workout of my own to keep myself going.
What kinds of changes did you make and what results did you see?
Stacy: I started to make an effort to eat more fruits and veggies and I made sure to drink the daily recommended amount of water. Also, doing P90X together with my boyfriend helped keep me motivated and not quit when things got hard. Doing that alone is about an hour of hardcore exercising six days a week!

John: I removed a lot of excess sugar, caffeine, and calories from my diet and began working out six days a week. At the beginning of the challenge I wasn't really able to do pushups of any sort, but now I am able to do pushups of all different kinds! Even though I was trying to burn fat I didn't really pay attention to my weight during the challenge as I knew I was also putting on a lot of muscle. I have seen most of my gut/belly disappear, graduating to the very last notch on my belt and even dropping one full pant size! Also I have developed significant definition in my arms and legs!

Now that the challenge is over, what do you feel are the long term benefits?
Stacy: Yes, I want to keep drinking more water than I used to (there would literally be weeks before that I wouldn't have a single glass of just plain water). Also, even though I'll be finishing P90X soon, it's gotten me motivated to find some kind of exercise that I really enjoy and keep it up!

John: My natural energy level has improved and, with no caffeine in my system, I sleep a lot better. It has made me pay a lot more attention to what I eat and put in my body and has motivated me to find new ways of getting and staying active!

What advice do you have for others who want to make healthy changes?

Stacy: I think doing it as team or as part of a "buddy system" really helps. If you're doing it alone it's really easy to let it slide for a day or two and then just never go back to it. Plus, having company makes it fun! Just make sure to set an attainable goal so that you don't start to feel hopeless and quit.

John: You've just gotta start somewhere and do your best. Don't worry if your form isn't perfect or you slip up and miss a workout, as long as you just keep trying you'll see results. And results, even little ones, are the best motivation!
Anything else?

John: As I mentioned, I have dropped at least one pant size and a lot my clothes are now loose and no longer fit me properly. Uh-oh, I guess that means it's time to buy an all-new wardrobe! (One of the best benefits of the challenge!) :)

--------------------------

Stacy has been working at the 'ville for five years as a graphics production artist, making custom artwork on our products look its absolute best. She loves to (in her own words) dork it up reading comics and watching cartoons, and she's also a published illustrator! How cool is that?

Next month, John will celebrate his sixth anniversary at Baudville. Though he secretly wishes he were a Ninja, he has settled on showing his stealth moves as the sole designer for our sister company IDville. John recently told me, "The best part of completing P90X is that it puts me one step closer to world domination!" Should we be worried?