It's day three of our Health & Wellness Series! Today we're featuring Amber, who set several small goals and achieved them through persistence and the accountability she felt toward her team.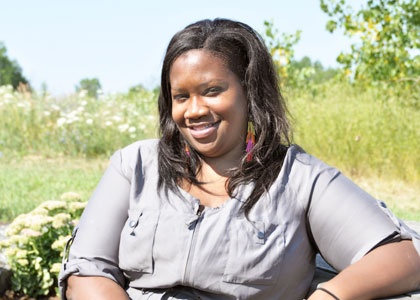 In addition to creating some new healthy habits, Amber also lost an impressive amount of weight! Here's what she told me about her success:
What were your fitness goals at the start of the challenge?
My goals for the fitness challenge were to exercise for at least 35 minutes, 4-5 times a week, eat my daily fruits and vegetables, drink water, and not eat fried foods. 


In what way did the challenge help you reach your goals?

I have been working on changing my eating habits, and doing light exercise slowly for several months with little results. The challenge helped me, because I worked with a team towards a goal instead of just my individual goals. I always had in the back of my mind I that I could not let my team down, which gave me the little bit of oomph I needed to stay on track.

What kinds of changes did you make and what results did you see?
I made several changes throughout the challenge: I changed what I ate by limiting my calories and eating smaller portions, I added more fruits and vegetables to my meals, and I walked 4-5 times a week. I also started Zumba once a week, which gave me something to look forward to on the weekends. These little changes paid off for me. During the challenge I lost almost 20 pounds, which was a huge accomplishment.
Now that the challenge is over, what do you feel are the long term benefits?
The challenge gave me the encouragement and motivation I needed to continue on with healthy living; it showed me that losing weight is a lifestyle change that I am able to accomplish. Meeting a small goal during the challenge let me know that accomplishing a bigger goal is possible. 

What advice do you have for others who want to make healthy changes?
My advice would be to ease into it by slowly changing your portions, and try to incorporate some sort of activity into your schedule. Walking has done this for me: it gives me time to clear my head, and it has been a great addition to my day. I would also recommend drinking more water. I used to drink a large portion of my calories in juice, but switching to drinking water has helped me not only lose weight, it has helped cut down my calories as well.
Anything else?

Have fun; find something you enjoy and continue with it!
Do you have a health & wellness success story to share? Our readers would love to hear about it!

-----------------
Amber is one of our newer Baudvillians, with just five months under her belt. Amber applies her own love of shopping to her role as Customer Service Rep by providing callers with the exceptional service experience that we're known for here at the 'ville. Way to put experience to work!