The last contributor to our Health & Wellness Series is Laura. She was my team captain in last year's challenge and served as a co-captain for her team, Buff n' Stuff, this year. I can tell you first-hand that she means business!

Laura's commitment to getting healthier started well before our challenge kicked off, so by day one she was already on her way to meeting her goals. I happen to know that, in total, she's lost about double in pounds of what she reported here. And it shows!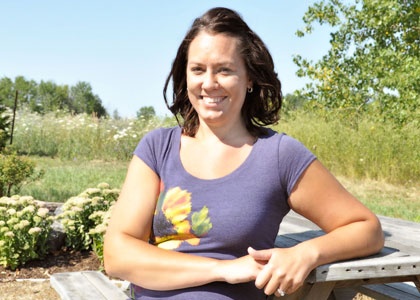 Want to know Laura's secrets? Read on!

What were your fitness goals at the start of the challenge?
I wanted to lose weight (20+ pounds) and also quit snacking after dinner!


In what way did the challenge help you reach your goals?
I had started my own personal focus on becoming healthy six weeks before the challenge started, so by the time of the kickoff I was on my way to reaching my goals, but also becoming bored with my routine. So, the start of the challenge gave me a newfound reason to keep going. The challenge also helped me to focus on not necessarily HOW MUCH I was eating, but WHAT I was eating as well. The extra point incentive for eating my fruits and veggies was a big contributor to my success, combined with my increase in workouts. I started to see the pounds drop!


What kinds of changes did you make and what results did you see?
My personal goal was to stop snacking after dinner—to eat my fill and be done for the night. I found it too easy to count my calories for the day, be under my calorie goal, and then somehow justify that I could "eat the difference" in my p.m. snack. I want the blood, sweat, and tears in my weekly Zumba classes to be worth it, so the snacking HAD to go. During the 10 weeks of the challenge, I was able to lose 18.8 pounds!


Now that the challenge is over, what do you feel are the long term benefits?
I now know the right combination of eating healthy and exercising, and understand that it takes both of these things for me to be successful. I also learned creative ways to get my fruits/veggies in. For example, slamming a V8 Fusion drink: my new favorite!


What advice do you have for others who want to make healthy changes?
LIFE is going to get in the way and throw us off our intended track. It's inevitable. It's how we come out on the other side that proves our strength. I will be the first to say I had a few rough weeks during this challenge, but I was able to pick up where I left off and get re-focused on my goals.
Has this series inspired you to start a health & wellness program at your workplace?
Tell us about it in the comments!

--------------
Laura has been with Baudville since 2005, keeping us in the black as our accounting rep and resident numbers nerd. Laura may seem like a mild-mannered soccer mom, but she shows her competitive side as the reigning "Go Go Ghost" champ in her household. She also ran the 25K in our local 5/3 River Bank Run a couple of years back. I'd say that's kind of a big deal!