Day two of our Health & Wellness series is all about weight loss! As part of our Healthy Active You challenge, we had an optional weight loss element for those who wanted to add some additional incentive to their efforts. I just did the math, and only counting those we tracked, together we lost close to 150 pounds!

Today's featured champion, Alan, was a big contributor to that number with nearly 20 percent coming from him. Way to go, Alan!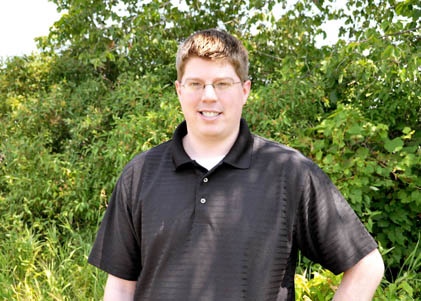 Want to know Alan's secret? I asked him some questions, and here's what he shared:

What were your fitness goals at the start of the challenge?
Before I started the challenge I would eat whenever my stomach growled and sometimes even when I was bored. My goal was to get a handle on my portions and to remove some of my bad eating habits. Too many days I would decide to go out for fast food instead of packing a lunch. By the time I got home from work it would be about 7–7:30 and I wouldn't want to cook anything, so I would go to Taco Bell (which literally was at the entrance of my apartment complex).

This challenge came at the right time, too. At our weigh-in, I weighed about 15 pounds more than I thought, and I already weighed more than at any point, so losing weight was a huge goal.

In what way did the challenge help you reach your goals?
The challenge was HUGE in keeping me on track to meet my goals. Having to log what I ate daily was definitely an eye opener; it really stopped me from eating that additional snack.

What kinds of changes did you make and what results did you see?
Since the challenge started in the spring, I was able to add some additional exercise. Once a week, for about an hour or two, I've been playing basketball. As we started the challenge I gave up drinking regular pop/soda and stopped eating Taco Bell (which was on average three times a week). Through the course of the challenge, I lost about 25 pounds.

Now that the challenge is over, what do you feel are the long term benefits?
I have so much more energy. After using MyFitnessPal to track what I ate, I have a general idea about putting together a day's meal. Now I know just how bad it was to combine multiple fast food meals in a given day. Also, I have a handle on my portions. I said all along, my diet could be called "The Stubborn Person's Diet," because I still wanted to eat things I enjoyed, just in a healthier way.

What advice do you have for others who want to make healthy changes?
I'm not sure if I'm the best person to be dishing out healthy/fitness advice, but I would say create a plan you are comfortable with. If you are just beginning, just like I was, start with a couple goals. As you meet a goal, create another goal.

Anything else?
Creating bad habits took time, so reversing those habits will take time as well.

Have you had significant weight loss because of a work-related or personal initiative? Share your success with us!


-----------------
Alan has been working as a Customer Service Representative for Baudville for just over a year. Armed with a sense of humor and an oh-so-useful knowledge of sports and movie trivia, he wows our customers with his ability to help them find just the right recognition items. He also has blue eyes and loves to cook, in case you wanted to know.