Cooler weather is blowing in up here in the Midwest and while summer is not yet over, the tides of change are coming. While change isn't always easy, it's not always bad.

This Friday let's look at the top 5 reasons why change ROCKS!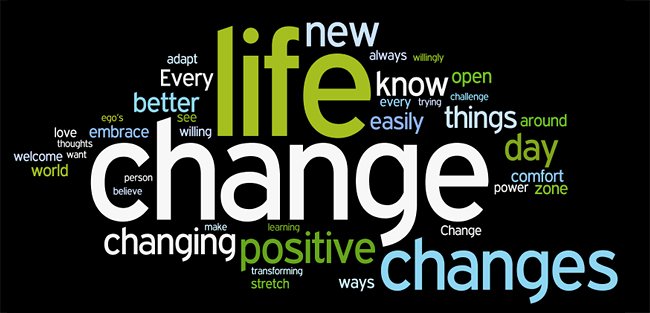 1. Changing Jobs or Changing Schools?
Look on the bright side, everything in your closet is new again! Your new friends and co-workers have never seen those tired dress pants you've been sporting for the past 7 years – rock 'em like you just pulled the tags off!

2. Give Cleaning a Whole New Meaning!
With the season changes, I like to deep clean the house and redecorate for the new season. It's always fun to give my space a facelift – it actually makes me look forward to weather change!

3. Respect Your Response.
This week I heard the something that really stuck with me, "It's not about what's around the corner, but about what's in you around the corner." Essentially, life can throw crap at you, or life can throw you a party – how will you react? Will you handle each with the same amount of grace and humility? You can't control what comes your way, but you can control how you respond.

4. Crisp Mornings = Coffee Bliss.
I love my morning cup 'o joe. That first sip delights my early hours. With the crisp morning air, a warm cup of coffee on my front porch is even better. Our new
Big Sip Stainless Steel Travel Mugs
help me keep the coffee hot and flowing all morning long! Ahhhhhh!

5. Make Room to Grow.
Change can be challenging, but challenges always lead to growth. Embrace new situations, new people, new policies, new views, new places, new projects as an opportunity for growth and you will reap the rewards! It's way better than wallowing in the weeds, don't you think?

--------------------------

As a team member since 2005, Falon has worn just about every hat the 'ville has to offer. She's seen both sides of working life — as an employee and as a manager — so if it sounds like she knows what she's talking about, we're pretty sure that's why. When she's not juggling between the IDville and Baudville brands, she's been known to whip up a mean diorama - just like that!