It's Friday! The sun is shining here in Michigan and the temperatures are rising. It's been a great week here; I hope you've experienced a wonderful week this week, too! As I look back on the week and look ahead to the weekend, these are my top 5 HIGHlights: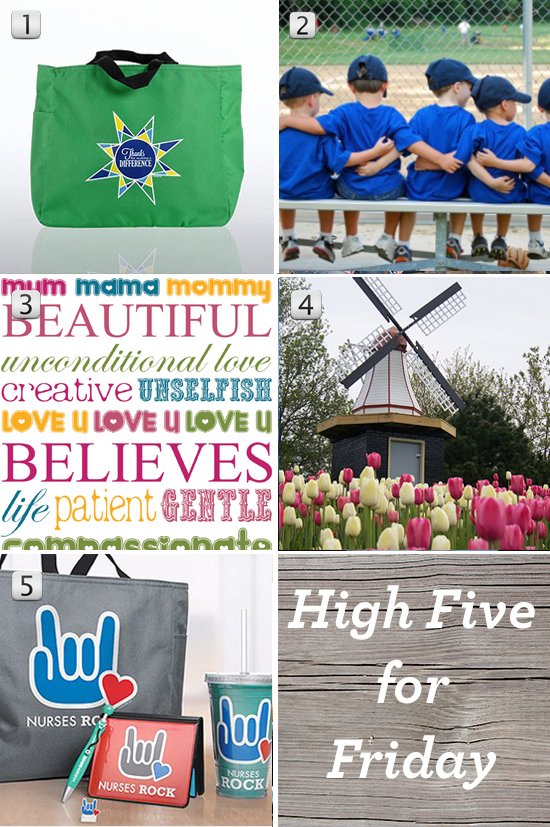 1. This week was Teacher Appreciation Week. I had so much fun selecting and giving my kids' teachers a little something to let them know how much I appreciate their dedication, patience, and wisdom. I chose gifts from our Thanks for Making the Difference theme(and of course I included a personal handwritten note). The green tote was a perfect spring way to package the gift, too! So cute!

2. We're ramping up baseball season at my house which means quick dinners, lots of laundry, and many nights spent at the ball fields. It's so fun to watch those little guys out there – especially when one's bent over backwards picking weeds in the outfield during an exciting double play. Across the nation many moms and dads volunteer their time to coach these little fellas (and girlies, too!) Perhaps a mid-season thank you would be appropriate – or an all-team gift at the end of the season… I better get planning!

3. This weekend is Mother's Weekend (notice I did not say DAY). Don't forget to pamper your moms with the rest and relaxation they deserve. Moms are awesome. They do a lot. Say thank you.

4. We're celebrating Tulip Time here in West Michigan. I am not proud to say that I've lived here all my life and I have never been to the Tulip Time festivities. The city is covered with vibrant blooming tulips, Dutch dancers perform nightly, and there's carnival food. Need I say more? This year I will go. I promise.

5. And last, but not least, we're also celebrating National Nurses Week this week! Nurses rock. They give, and give, and give, and give. They help, and comfort, and care for us in times of uncertainty, fear, and discomfort. These people are some of the ultimate givers in life. Have you thanked a nurse lately? If not, there's still time. Do it now.

------------------

As a team member since 2005, Falon has worn just about every hat the 'ville has to offer. She's seen both sides of working life — as an employee and as a manager — so if it sounds like she knows what she's talking about, we're pretty sure that's why. When she's not juggling between the IDville and Baudville brands, she's been known to whip up a mean diorama - just like that!