It's been a steamy couple of weeks here in the Midwest! I'm looking forward to some relief from it this weekend. Mother nature may have turned up the heat, but it hasn't stopped me! Check out my High 5 for Friday thoughts and tips based on this week's events!

1. I'm Outta Here!
Next week I'll be on a family staycation at Casa de la Peters. While vacations are fun and relaxing for the vacationer, oftentimes the people back at the office are left to pick up a few missing pieces in your absence. Have some fun with your out of the office folks, download our FREE While You Were Out printables to leave them a post-vacation surprise!

2. Hooray for Volunteers!
This past week I volunteered at my church for our Summer Vacation Bible School. We hosted over 550 kids 4 nights in a row for worship, crafts, outdoor play, and learning. It was awesome to see so many people giving up their time to help these kids! Volunteers are truly amazing and deserve HUGE high fives!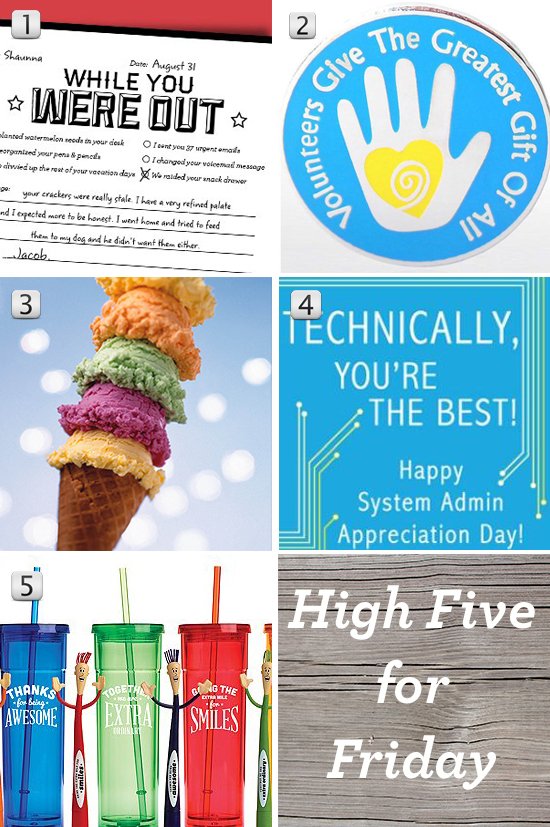 3. I Scream for Ice Cream!
There's something about the summer heat and longer days that makes ice cream seem like a FANTASTIC idea at any point in the day. Try a surprise ice cream social with your team, or bring in popsicles and ice cream sandwiches for a mid-afternoon snack. Take 15 minutes to break out of your routine to do a team scream for ice cream! Yummo!

4. If IT's Working, Thank I.T.
July 26th is System Administrator Appreciation Day. (That's today, by the way!) Send a
free ePraise
to say thanks for all they do. After all, without our technology where would we be? Thanks, I.T.! (P.S. You don't need a special day to show your appreciation. Our new
I.T. Team Shirts
have been a hit with our customers – order yours today and surprise your I.T. staff any time!)

5. New, New, New!
Our July catalog featured over
200 new products
! We've been so excited about them here and so far our customers have been loving them, too! Check out these top-sellers:
Gratitude with Attitude theme
,
Big Click Smiley Pens
,
Desk Dudes
,
Eye-Popping Squeezies
, and
Team Gear
!

--------------------------

As a team member since 2005, Falon has worn just about every hat the 'ville has to offer. She's seen both sides of working life — as an employee and as a manager — so if it sounds like she knows what she's talking about, we're pretty sure that's why. When she's not juggling between the IDville and Baudville brands, she's been known to whip up a mean diorama - just like that