Our new catalog is coming your way this week and in it we've got hundreds of brand new items to help you recognize and engage your employees. The overall theme of this summer's new product launch was "fun," and I'll tell you what, these products are just that! Check out my top 5 here:

1. Desk Dudes™.
Made from bright, colorful, and bendable PVC, these little guys are the perfect way to give and display recognition! Tuck a Pocket Praise in their arms and leave him on your employee's desktop for a welcome surprise in the morning. I bet he ends up travelling for some more peer-to-peer recognition. These guys are so fun, you can't help but smile at them!

2. Memo Caddies.
The catalog page does not do this product justice. These caddies are sturdy, and once the notes are used up, they make the perfect cell phone holder or desk-top catch-all. Available in our top themes, this gift will be a lasting reminder of your appreciation for years to come!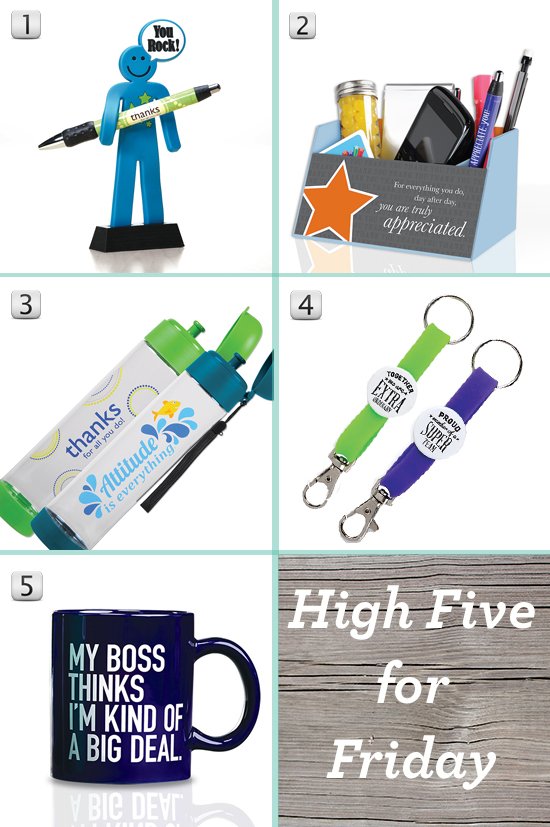 3. Flip Top Water Bottles.
I love to drink water. I can slam over 100 oz a day – easy. These new Flip Top Water Bottles are perfect for daily hydration with a recognition message. I love the functionality of the strap, and the bright top and bottom accents. So fun!!

4. Carabiner Key Chains.
This is one of my favorite products in our newest theme, Gratitude with Attitude! Once you get them in your hands, you won't want to put them down. They are stretchy, fun, and the messages on them are so applicable to so many people and teams, you just can't go wrong! Trust me, these will be a hit and they're under $4 each!

5. My Boss Thinks I'm Kind of a Big Deal Theme.
I couldn't pick just one product in this new theme – I love them all! From the oversized ceramic coffee mug (20 oz!) to the super cool aluminum office sign, everything in this theme screams fun employee recognition!

I can't wait for you to get our new catalog in the mail! Look for the new products and leave a comment letting me know which ones are your favorites! Let's put some fun back into employee appreciation!


-----------------

As a team member since 2005, Falon has worn just about every hat the 'ville has to offer. She's seen both sides of working life — as an employee and as a manager — so if it sounds like she knows what she's talking about, we're pretty sure that's why. When she's not juggling between the IDville and Baudville brands, she's been known to whip up a mean diorama - just like that!