We're bringing back the High Five for Friday blog posts from last year to share some of our favorite tips, activities, and ideas to make work more engaging. Our bloggers will take turns giving high fives to their favorite things, so you'll get a wide variety of information from week to week.

Let's get it started!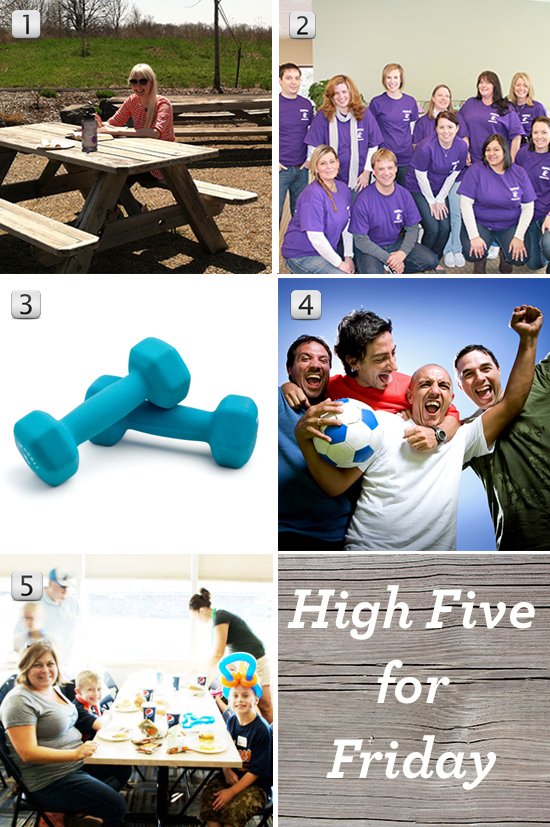 Spring has sprung here in Michigan! While you may have enjoyed warm rays of sunshine for weeks now depending on where you live, here in West Michigan we are only now beginning to thaw from a long and cold winter. In honor of Mr. Sun, it seemed only right that our first High Five for Friday blog post of 2013 would be dedicated to the warmth of spring.
1. Eating Lunch Outside
The weather is finally getting nice in Michigan, so I'm giving a big high five to sitting outside at lunch. Not only do we have a great outdoor picnic area at Baudville, but eating lunch outside has several health benefits, too. Getting away from your desk for your lunch break can prove to be a
serious stress reliever
, and soaking up the sunshine can
protect your heart
.
2. T-shirt Weather
I have an expansive t-shirt collection which has been neglected for the last six months in favor of sweaters and sweatshirts. The day has finally come to bust my t-shirts out of their dark drawer and show them the light of day! You can bet that I'll be proudly sporting my new
Smart Saying t-shirt
that I received from the Baudville Operations department. We recently got
team t-shirts
, and now that the weather is nicer, I know we'll be wearing them more often!
3. Health and Wellness Fitness Challenge
The warmer weather encourages me to get outside and run, bike, walk, garden, or do any number of outdoor activities. Since we're in the middle of our
health and wellness
fitness challenge, doing my favorite activities earns points for my team. What spring activity are you most excited about?
4. Outdoor Games
I love playing outdoor yard games. I have quite a collection at home, and I'm always looking for a new game to add to the mix. Plus, I love how easily you can bring a yard game to work and change attitude and morale for the day. Email your team first thing in the morning to get challenge them to a game and have the play happen during lunch. This simple activity can brighten your team's day and foster valuable team morale. If you don't have your own yard games, create your own with our
team activity eBooks
.
5. Company Picnics
The spring weather means one of my favorite Baudville company events is right around the corner. Each summer, Baudville treats its employees and their families to a
company picnic
. The Baudville picnic is a great opportunity for camaraderie and fun in a more relaxed setting than the office. We often host our picnic at the local ballpark, zoo, or park, and there are lots of activities and giveaways for all attendees.
------------------
Cori is Baudville's in-house Recognitionista (she's officially a Certified Recognition Professional, too) and a member of the Millennial generation. Get her employee recognition tips and special discounts by liking Baudville on Facebook.