Happy Friday, everyone! Tomorrow is World Gratitude Day and, boy, do I have a lot to be grateful for this week! Here are my top five:

1. If it's working, thank IT.
In a totally amateur move, I lost about five hours of writing I was working on yesterday. I tried all the tricks I knew of, but as a mere mortal I was unable to retrieve my missing document. In one last effort, I asked an old pro: our former System Administrator who now serves as our Product Manager for IDville. He dug into his mental archives and found a fix...that actually did save the day. Thanks, Dave! Wow, I really do work with Super Heroes!

2. New hires in the house!
This week, two new designers joined our creative group—and, oh man, are we happy to see them! They've spent the last several days getting to know all the ins and outs of the 'ville. Plus, they got to go for a team lunch at our favorite restaurant and then on a field trip to get some fresh design inspiration. We're thrilled to have some bright, new faces in our digs. Look for their work in future products and catalogs!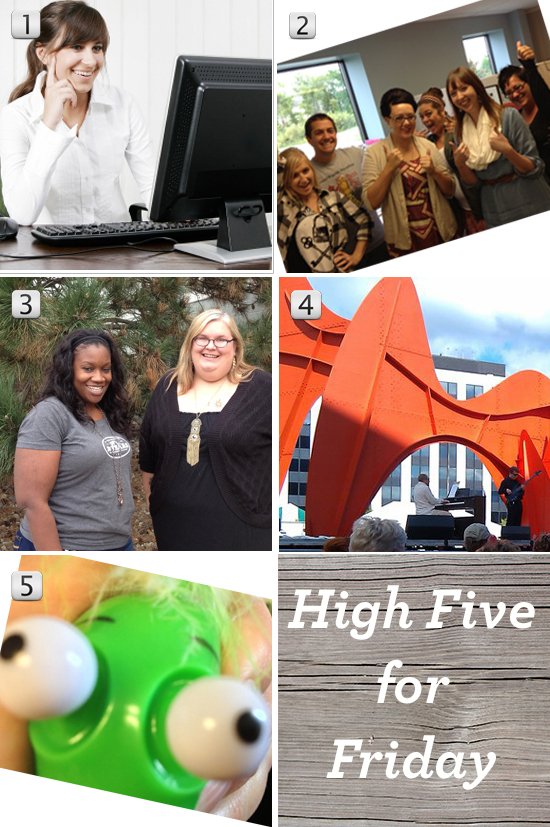 3. Being famous.
I'm not saying I'm famous or anything, but I am currently in the presence of famousness. Two of our team members were invited to share their fitness journeys with a local TV personality who has a show on Thursday nights. It's called "Maranda – Where You Live" and you can watch the session
here
. Everyone at the 'ville is so proud of these exceptional ladies, and I think a few of us might have even asked for their autographs! Way to go!

4. Art is everywhere.
For the fifth year, our home of Grand Rapids, Michigan, turns into the biggest art exhibition most of us have ever seen. On the streets and in the buildings, three square miles opens up to host artists and their works for
ArtPrize
. This year we'll get to see the creations of artists from 47 countries and 45 U.S. states, plus Washington, DC. And, we get to vote on our favorite. In total, $560,000 in prizes is awarded to the winners, chosen by both the public and a jury. You bet I'll be out there this weekend!

5. Gratitude with Attitude.
Since I'm talking about World Gratitude Day, I would be remiss if I didn't mention our new
Gratitude with Attitude
theme. If you're looking for fun and wacky ways to say thank you (Ahem,
Customer Service Week
, October 7-11, 2013!) this is definitely your go to theme!

--------------------------

Allison is a self-proclaimed Copywriting Diva and has the certificate to prove it! She's been writing for Baudville for four years and has worked in a variety of business settings for more than 19 years. Before becoming a professional writer 12 years ago, Allison worked as a department manager where she used Baudville products to motivate her team. She's what we call a true believer!