The best part about Labor Day might be the extra time off, but I also love returning back to work with a sense of change as the fall season is approaching! Check out my top five moments of this week!

1. Monday Funday!
Thanks to the Labor Day holiday, Baudvillians had the luxury of a long weekend and a short work week! It was a great opportunity to give our minds a rest, and that's exactly what we did! The time off has inspired us to be extra productive at the office this week. Hopefully you enjoyed your time off, too!

2. School Bells Are Ringing.
This week, children alike headed back to school as parents everywhere gave a cheer! I personally love the transition into the autumn season, so this time of year always brings a smile to my face! Plus, it's a great time to take advantage of sales – they're everywhere! From grocery stores to shopping malls, a good bargain is sure to be found. And Baudville is no exception! For a limited time, your recognition favorites are 25% off! Hurry, the sale ends tomorrow, September 7th!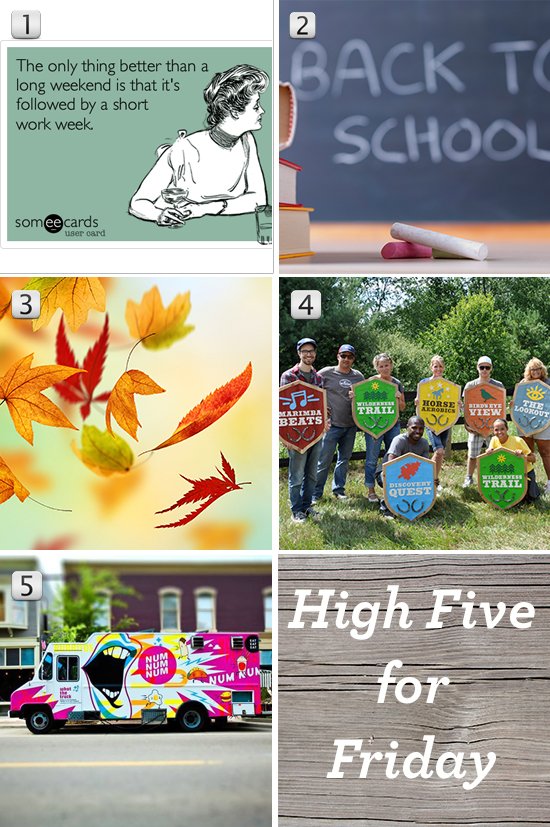 3. Time to Decorate.
This is a perfect time of the year to combine two of my favorite things: the fall season and decorating! I plan to kick September off right by decorating my space in fabulous fall décor. Pumpkins, candy corn, and pine cones here I come! Check out our
Pinterest boards
for great ideas on how to decorate your space during the upcoming holidays!

4. Cheers for Volunteers.
For the past several months,
Baudville
employee volunteers have been working to construct the Saddle Safari sensory riding trail at the
Equest Center for Therapeutic Riding
. Volunteering with my coworkers has been a blast, and I'm happy to report that our hard work has really brought the trail to life! It's looking awesome! To learn more about this project,
visit our Helping Hands website
!

5. What the Truck!
The entire group of Baudvillians were invited to the Quarterly Update Meeting to learn the newest happenings in the company followed by a delicious lunch from Grand Rapids'
What the Truck
food truck. (And let me tell you, this is more than just a food truck!) It was a perfect mid-week break and the tacos were delicious!