After returning from a short work week/long weekend combo, I'm settling back in to the reality that I am not, in fact, a lady of leisure. Darn. Good thing I've had plenty of exciting things on my mind this week to keep me thrilled at the 'ville! Here are my top five:

1. Ice-Cream Goes Social.
One of the benefits of having a robust culture here at Baudville is that we realize that we, as individuals, are empowered to create our own recognition moments. We knew that our Creative Manager had been working her fanny off, so we decided to take it upon ourselves to throw her a surprise, just because you're awesome, party. We chose ice-cream floats and sundaes as our refreshments of choice, then invited her to a fake brainstorming meeting, and the rest unfolded just as we planned: total surprise! Muahahaha.

2. Health R' Us.
We just wrapped up our third-annual, 10-Week Fitness Challenge and the results are in! Though I can't actually announce our winning team yet, I can report that between the 22 of us who participated in the weight loss part of the challenge, we lost close to 160 pounds! Wowee! In addition, we learned some healthy habits from a local fitness guru, eliminated some unhealthy behaviors, and enjoyed some (:ahem:) healthy competition!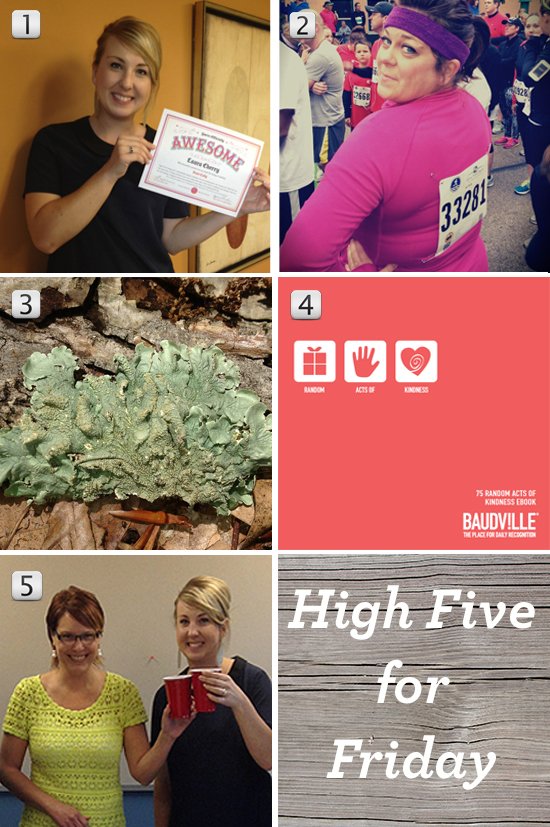 3. The Fungus Among Us.
This is your official Nerd Alert: read on only if you are, like me, captivated by the oddities of nature. Camping last week in Manistee National Forest, I photographed (and
subsequently researched
) many wonders of the woods, including Monotropa Uniflora, Strobilomyces floccopus (a/k/a The Old Man of the Woods mushroom), Turkeytail Fungus, and Foliose Lichens. Sure, the sunsets over Lake Michigan were beautiful, but these kinds of spectacles you just don't see every day!

4. What the World Needs Now.
Ever since I attended a seminar on the practice of Metta (that is, universal, unconditional compassion and kindness toward all beings), I've been trying, really trying, to—you guessed it—have kinder thoughts! How am I doing? Let's just say I'm a work in progress! P.S. Kindness doesn't require special training, check out our
75 Random Acts of Kindness eBook
to see how easy it is!

5. Beers to You! Or Lattes. Or Appetizers.
That's the specialty of our newest friend,
Conpoto
, who has taken Cheers! to the next level. We're always excited when someone finds a fresh, new way to give thanks and rewards to colleagues, buddies, or anyone who deserves a pat on the back. The name Conpoto is Latin for "drink together," but, depending on your location, you can choose from a variety of establishments that offer snacks and coffee instead of the strong stuff. Hmmm...who deserves a toast this week?

--------------------------

Allison is a self-proclaimed Copywriting Diva and has the certificate to prove it! She's been writing for Baudville for four years and has worked in a variety of business settings for more than 19 years. Before becoming a professional writer 12 years ago, Allison worked as a department manager where she used Baudville products to motivate her team. She's what we call a true believer!