Now that the weather is nice here in Michigan, we finally get to make it outside and we're definitely high fiving for that! Check out the top five things were giving High 5s for this week!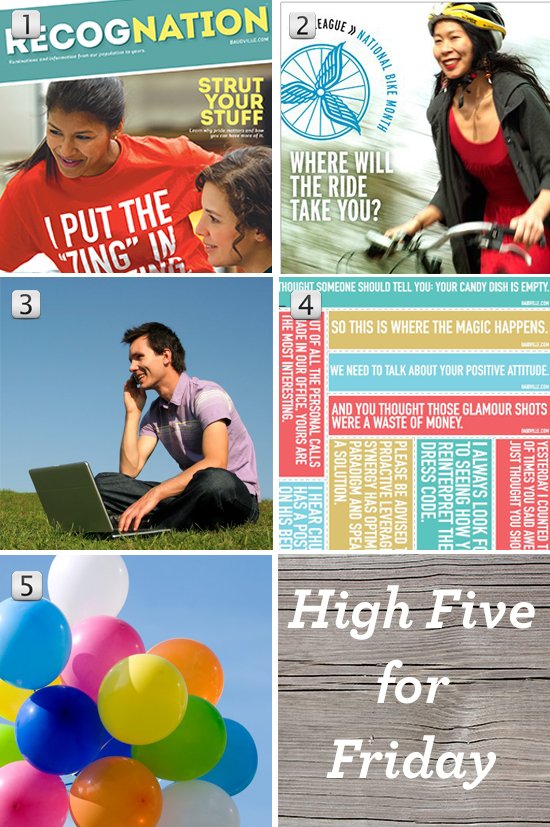 1. RecogNation.
Our newest issue of
RecogNation
is hot off the press and full of tips and ideas for creating pride in your organization. We are giving you some of our own secrets as well as industry's best practices for creating company pride. Plus, we have an extra-special
interview with Pete Winemiller
, SVP of Guest Relations for the Oklahoma City Thunder. Pete chatted with us about his successful "CLICK!™ with your Guests" program. Check out this free online issue now!

2. National Bike to Work Day/Month.
Let's face it; we all need to get to work somehow. So why not bike? Biking to work is a great way to incorporate daily exercise needs into your schedule. Challenge yourself and your team members to bike to work this month.


3. Fun in the Sun
Now that the weather is becoming nicer, get outside and enjoy it! Have impromptu meetings outside in the grass or on picnic tables. Changes in scenery can really help boost creative energy and spark great ideas! If you can't have a meeting outside, make sure you take a few minutes to get outside and breathe some fresh air. You'll go back to work rejuvenated and ready to face the rest of your day!

4. Free Downloads
We have compiled a ton of free downloads for you, located in our
Recognition Resource Center
. Print out our
Print and Posts
and post them throughout your office. Need some ideas for what to do with your team this summer? We have a
free ebook
for that. Or, get great
Peer-to-Peer recognition ideas with our free white paper
.

5. The Weekend.
Go out, have some fun, and relax this weekend. You've earned it!
--------------------------

Kendra is Baudville's Product Coordinator. Using her awesome powers of organization and research, she brings new and innovative products to our customers. She is a recent graduate and is ready to help with your recognition wants and needs. Watch out, because this young professional just touched down at Baudville!