We're in catalog mode again here in the Creative Department, which means the next two weeks are going to be, well, crazyville. How do we stay sane amid the chaos and tight deadlines? We do have a few tricks up our sleeves… Here are my five favorite Keep Calm and Catalog On activities:

1. Get Creative.
Busy times can often stifle imagination and create a mood of get it done instead of get inspired. We try to counter that pressure with fun projects that activate our minds. A couple of us had the idea to brighten another team member's day by covering her desk with tissue paper flowers. How cool it was to see what different color combinations, paper sizes, and cutting techniques turned into in the final results. Plus, we really did make someone's day, and that was pretty cool, too.

2. Take a Joy Ride.
While we can't all take turns buying a new car just to keep the excitement going, the occasion does arise once in a while. As the latest new car owner, I got one of my coworkers to join me for a spin during lunch. The fresh air, the sunshine, and, yes, the thrill of the pedal to the metal was exhilarating and refreshed us enough to power through the rest of the day.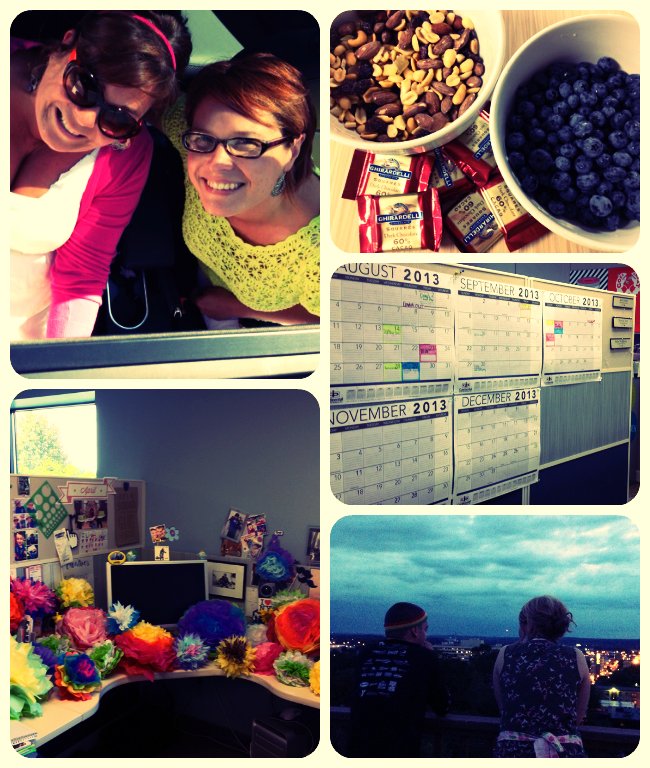 3. Eat Food for Thought.
You might have heard the expression "eating our feelings." It's true, stressful times can sometimes have an impact on our otherwise healthy habits. The comfort food comes out and the greens get pushed to the back of the fridge. But, eating poorly actually makes us feel worse: bogged down, over stimulated, and even guilty for overindulging. Considering that many super foods, like nuts, blueberries, and (hooray!) dark chocolate, are also brain food, it's kind of a no brainer that we feed them to our hardworking minds. Keep some healthy snacks around during your crunch times and your team will be fueled for the big push.

4. Set Benchmarks.
Rome wasn't built in a day, and not one of our catalogs has been, either. They take time, and the only way we can make sure we stay on course is to set expectations of progress. These keep us from arriving at the final day and realizing that we are perilously behind schedule. Each week we have a benchmark that we're required to meet, and we don't (can't) miss it. While this may sound strict, it's this structure that eases our minds—we know that when we achieve those milestones, we're on target to achieve the big one.

5. Don't Labor.
As crazy as it might sound, some of us at the 'ville are tempted to come in to work on this long, Labor Day weekend to try to make progress on our project. But the reality is, we're going to be a lot more productive next week if we give our minds, bodies, and spirits a rest. So that's what we've decided to do…and I recommend you do, too!

Happy Labor Day, friends! Enjoy it!

--------------------------

Allison is a self-proclaimed Copywriting Diva and has the certificate to prove it! She's been writing for Baudville for four years and has worked in a variety of business settings for more than 19 years. Before becoming a professional writer 12 years ago, Allison worked as a department manager where she used Baudville products to motivate her team. She's what we call a true believer!