This week was quite the change of pace from last week's whirlwind of due dates and miracle working! Now, time to switch gears and focus on new objectives as well as re-establish a few life priorities! Here's what I'm high fiving about these days!
1. hi5 for June!.
Our catalogs are out the door and now it's time for our creative team to turn its attention to hi5, Baudville's new service award (& more!) offering! For the next month, we'll be working on all kinds of informational pieces to help our customers learn more about this spectacular new solution. You can learn more about it here, plus stay tuned for even more to come!

2. Full Mighty Boot Camp.
The idea of getting a military-quality workout might not sound very exciting to many of you, but as someone who needs to constantly stay on top of my physical fitness, it is to me. Now that we've made our crazy deadlines, I've gotten back to my regular beatings, and all I can say is: no pain, no gain!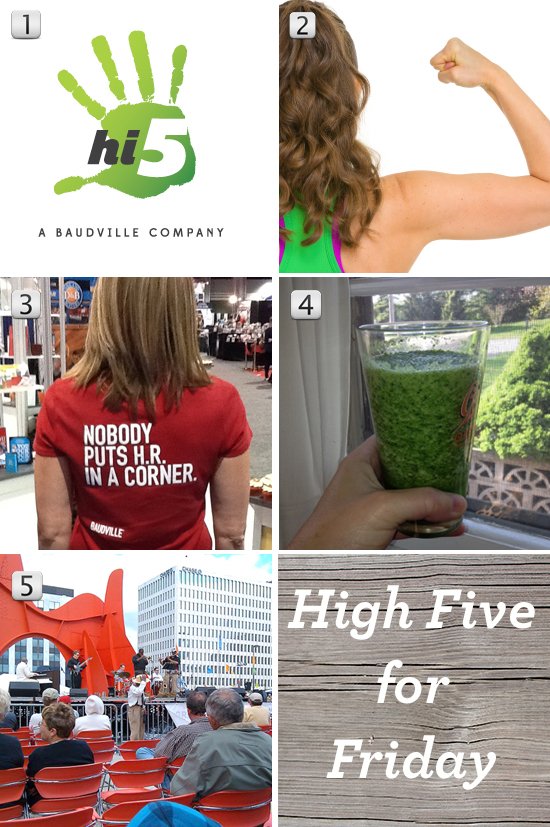 3.
Celebrating the HR in Hero.
The
2013 SHRM (Society for Human Resources Management) Annual Conference and Exposition
is coming soon! From June 16-19 we'll be in Chicago talking with thousands of HR professionals about what we do at the 'ville. There'll be cupcakes and cool shirts and high fives…oh my! If you're going, don't forget to
vote for your favorite T-Shirt
and check us out at booth 1626!
4.
Healthy Happy Half Hour!
As part of our
10-week fitness challenge
, we've been bringing in a local guru who knows a thing or two about healthy living. So far she's taught us how to introduce more fruits and vegetables into our diets with green smoothies and also made us some super, whole food energy bars. Yummy AND inspiring!
5.
Festival of the Arts.
For 44 years, our fair city has been putting on a shindig so big we close all the streets surrounding it. With 25+ food vendors serving everything from pavlova to shawarma to something called deep fried paradise, plus hundreds of performers, plus face painting, workshops, and more—this is the thing to do. I'll be there tonight and I'll be sure to report back on this deep fried paradise thing (just don't tell our wellness guru about it!).
--------------------------
Allison is a self-proclaimed Copywriting Diva and has the certificate to prove it! She's been writing for Baudville for four years and has worked in a variety of business settings for more than 19 years. Before becoming a professional writer 12 years ago, Allison worked as a department manager where she used Baudville products to motivate her team. She's what we call a true believer!