Summer is one of my favorite seasons. I love spending time outdoors in the sun and water. Because I live in Michigan, I have to soak up every opportunity during the summer months to do so!

I also love what summer means at work: special events, outdoor meetings, and picnic lunches. Take advantage of summer by planning special seasonal activities and team building opportunities. Below, I've described my five favorite workplace summer activities. Tell me about your favorites in the comments!

1. Company Picnics and Cookouts
Baudville hosts a company picnic every summer and invites employees' families to join in at a popular West Michigan location. This year, we invaded the Frederik Meijer Gardens and Sculpture Park for a wonderful evening of food, flowers, and fun. Holding a company picnic is a great way to boost camaraderie and engagement among your team. Download our Summer Team Events eBook for ideas to bring your team together this summer.
2. Team Volunteer Projects
The summer is a popular time for working in the community and giving back. The past few months, Baudville has sent multiple volunteers groups to the Equest Center for Therapeutic Riding where we're constructing a sensory riding trail. The experience has been invaluable for our employees and leadership. Get involved in your community and watch teams and individuals grow!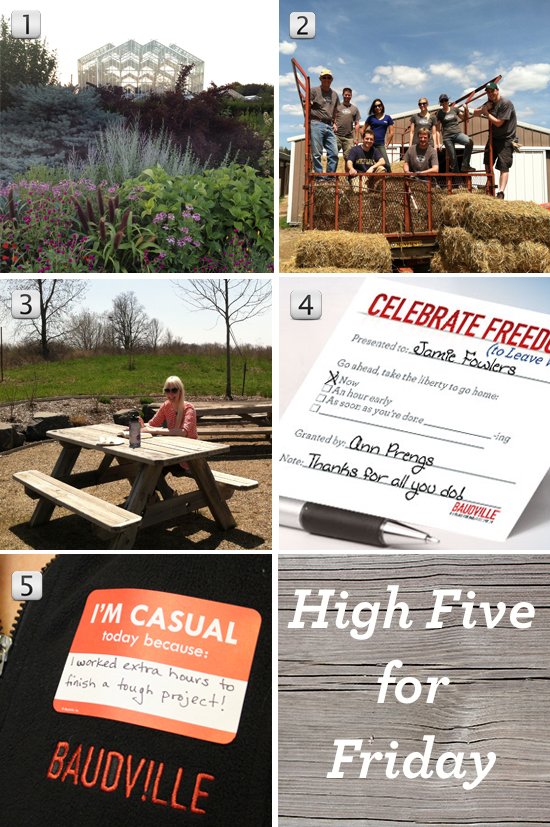 3. Outdoor Meetings and Lunches
During the summer, it's not uncommon to catch a staff meeting taking place at our outdoor picnic area. While the space is busiest during lunch, our employees love to take advantage of the beautiful setting to discuss work projects. Do your employees have an outdoor area where they can enjoy lunch or host a meeting? Encouraging your team to get outside during the day can actually improve productivity!
4. Recognizing Employees with Time Off
Summer holidays can often be a time for distraction in the office, but you can use them for valuable recognition! Thank your team for their hard work by "freeing" them from the office a little early before a holiday. When you combine this treat with a handwritten note, your employees will start their holiday feeling appreciated and thankful to be working for you. Download our Freedom Passes for free, and start recognizing!
5. Casual Fridays
If you've ever visited the Baudville team in Michigan, you know that most of the year is pretty cold here! We have to bundle up for even short walks between our cars and the building! In the summer, we have a reprieve from the bitter cold and soak up all the warmth we can with a more laid back wardrobe. That's why it's such a treat to be casual on Fridays. It's common to see Baudvillians wearing their favorite Smart Sayings t-shirts and sporting sunglasses on their heads all day. Casual days are a free and easy way to show your team appreciation and increase the levity in your office. Reward your team with a casual day by sending them an ePraise card or passing out Casual Day Stickers.
---------------
Cori is Baudville's in-house Recognitionista (she's officially a Certified Recognition Professional, too) and a member of the Millennial generation. Get her employee recognition tips and special discounts by liking Baudville on Facebook.