The SHRM 2013 Annual Conference and Exposition is officially over! Around the country, about 20,000 HR practitioners and vendors are recuperating from three full-speed, non-stop days of networking, learning, and walking. And I mean lots and lots of walking!

The Baudville team had a great time in Chicago talking to customers and sharing the Baudville story…one blinking ring at a time! In honor of our trip to the windy city, I'm dedicating this week's High Five for Friday to a SHRM13 recap.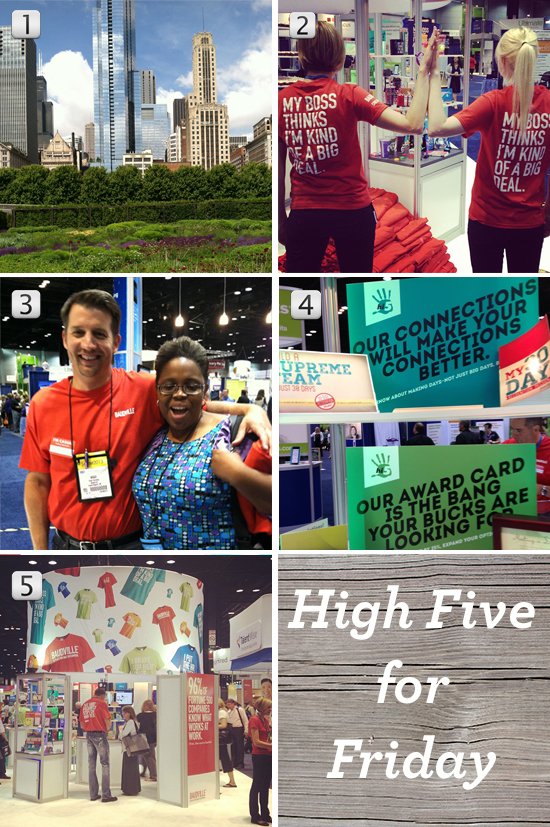 1. Chicago
Chicago is a beautiful city full of thriving restaurants, beautiful parks, and lots to do. The city was pulsing with activity during the conference, and I loved being a part of it. I'm thankful we had beautiful weather during SHRM13 that made it easy to get out, walk around, and enjoy the sights! What was your favorite thing to do in Chicago? Let me know in the comments!
2. Smart Sayings
The Baudville team had a blast giving away our Smart Sayings t-shirts on Sunday night! If you love our shirts, remember you can order them for your entire team! We've made a select number of shirts available to ship TODAY! Shop our popular Team Shirts today and let everyone know you're a big deal.
If you visited the Baudville booth on the expo floor, you know that we're also bringing our popular Smart Sayings to tumblers and tote bags. Create a fun and personalized gift for your team with all the wit and charm you've come to love from the Baudville line.
3. Engaged HR Attendees
My favorite part of the SHRM 2013 Annual Conference and Exposition is interacting with the attendees. It's exciting to hear customers talk about the products they love, the programs they're using, and the results they're seeing. You don't have to attend a conference to tell us what's working for you. Leave a comment about your latest recognition success!
4. hi5 Service Awards
Our new brand, hi5 Recognition, made it's SHRM debut this week, and it was exciting to tell attendees about our new service award, performance, and total rewards solutions. We showed attendees how our new capabilities can save them both time and money. If you didn't have a chance to learn about hi5, request more information on our service awards here!
5. I Rock. You Rock. We Rock.
Our team is the best. Period.
They're dedicated, fun, and engaged with our customers. Take Dave on our IDville team, for example. His car broke down on the way to Chicago, he got sunburn waiting for a tow truck on the side of the highway, but he STILL made it to the expo opening on Sunday night. Isn't that great? Even Brad, our CEO, didn't let travel snags slow him down on Sunday night. He jumped right into the fun when he arrived at the booth.
We talk about teamwork a lot at Baudville because we understand the value of a group of talented, committed individuals working together. I sent an ePraise to all the SHRM teammates when I got back in the office. How did you recognize your team after SHRM?
-----------------------------
Cori is Baudville's in-house Recognitionista (she's officially a Certified Recognition Professional, too) and a member of the Millennial generation. Get her employee recognition tips and special discounts by liking Baudville on Facebook.