Are you looking for trendy spring appreciation gifts and new day-to-day recognition tools to give your team? You've come to the right place! As one of Baudville's in-house product designers, I've chosen my personal favorites for spring appreciation. Learn what's hot right now with my High Five for Friday Spring Trend Report!
1. NEW Talking Praise - fun desktop notes
These notes feature FUN and BRIGHT colors with a creative shape that shows off our originally-designed art. They're a great day-to-day recognition solution!
They're lighthearted & easy to give for any recognition moment and perfect for on-the-spot recognition. Personally, I would love to be surprised with one of these left on my desk!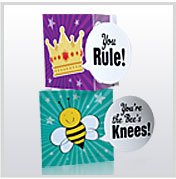 2. NEW In Good Company - fun business cards
Another fun and lighthearted recognition option that is SO easy to give! These awesome, write-in business card style notes come with a plastic case so they can be on hand at all times. That way you don't miss any opportunity to recognize your best employees. Surprise recognition can be the best kind sometimes!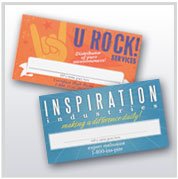 3. Thanks for All You Do! - best selling theme
What a refreshing and happy recognition theme. These colors just scream Spring! You can give anything in this theme so easily for any appreciation occasion. And, our new Twist Top Tumbler in this theme is a two-in-one treat! All of our tumblers are great for holding your favorite summertime drink; but this one is special because of its colorful swirl straw and candy-filled base!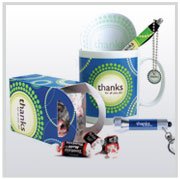 4. Positive Praise Theme – bestselling theme
Can't you tell I just love bright colors?! Color is so important in designing the art that goes on each of our products. What I love most about this theme is the vibrant fun design and simple use of text. This theme does so well because you just get it when you look at it. Not every occasion calls for a serious and sentimental message.

Right now, my favorite product in this theme is the PVC memo clip holders that come in a pack of 5. Recipients can use the clip at their desks for photos or notes from managers or their co-workers – and have a constant reminder of how awesome they are!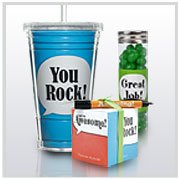 5. NEW Pop of Praise – desktop pop-up notes
I am in love with all our day-to-day recognition tools that we offer for managers! Aside from our Holiday theme art, they are probably my most favorite product to design.

Pop of Praise are one of the easiest products to use that we have designed yet. All you need to do is pull a random note from the box and write a small note and - BAM! - you are ready to give quick & easy recognition! The best part is that you are instantly ready for your next moment as the next note pops up.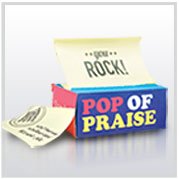 Want more ideas? Check out a few more of my all-time favorites:
• Twist Top Tumblers – offered in many themes.
• SHOUT OUTS – great way to get your team to support one another.
• Cheers Kits – great for manager-to-employee or peer-to-peer recognition.
• Pocket Praise – perfect for day-to-day recognition.
• Sweet Treats – I just love the jelly beans!
--------------------
Since 2008, April has designed countless (really, too many to count!) themes and products for Baudville. Here, she uses her expert's eye to pick her top five favorites for spring!